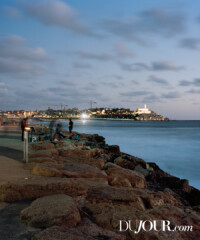 One hour and 20 minutes north of Tel Aviv, in the ancient Mediterranean port town of Acre, chef Uri Jeremias leads me into the tiny kitchen tucked in the back of the Ottoman-era stone building that has housed his restaurant, Uri Buri, since 1989. Business, and life, here has not always been easy. Just 20 miles from the Lebanon border, Acre, a center of the Third Crusade, has witnessed its share of upheaval. And yet Uri Buri's mission has remained steadfast. A decade ago, when the militant group Hezbollah began sending missiles into Israel, Acre was one of the towns hit hardest. Throughout it all, Jeremias's doors stayed open. "It was more important than ever," he says.
This is a philosophy practiced by many chefs, around the world and throughout the ages: Food, and eating, is for celebrating, but it's also for commiserating and comforting. And with hard work and constancy, Jeremias and other like-minded chefs have created within Israel a dining community that continues to thrive, not just despite, but perhaps because of, the country's on-again, off-again uncertainty. 
Jeremias became a chef after spending his later youth as a fisherman, where he found the success he could not find in school. "I was lucky in that I had parents who believed in me and let me go out and find my way," he says. Today, he runs one of the country's most acclaimed, and most understated, restaurants, a food destination for travelers who come to spend long afternoons and evenings over meals of fish just pulled from the sea, carafes of Israeli wine and, not least of all, dessert, because, as Jeremias says, "salmon without ice cream is like a kiss without a mustache." He cooks what he likes and what delights him in the moment; he only started recording recipes when someone asked him to write a book, which is filled, like his menu, with such unexpected pairings as anchovy-and-peach ceviche, caramelized tilapia with sweet-and-sour beetroot and almond-arak sorbet. 
But although creating good food is chief, Jeremias's focus lies nearly as resolutely on the people he assembles to help prepare and serve it. Acre is a mixed city, and both Uri Buri and his nearby 12-room boutique inn, Efendi Hotel, are staffed by equal numbers of Jews and Arabs.
"For me, peace is easy. Peace is about respect," says Jeremias, who is Jewish. "I believe that we don't have to agree with one another or even always understand one another, but we always have to respect one another. And in this way I do think it's possible to work and live together. And this is because I see it happen every day."
He built Efendi with the sole purpose of bringing more people to Acre to witness that harmony. "Life here is very different than the idea you get reading the papers and watching TV back home," he says. "It's very important for us here in Acre and in the whole of Israel for people to come and see that."
Released in 2012, Jerusalem, written by London chefs Yotam Ottolenghi and Sami Tamimi, was a hit beyond expectation. To be sure, the cookbook was a best seller because the recipes in it are good—interesting, innovative, just challenging enough. But it is also a collection that is exceedingly relevant, both in terms of tastes and politics. Israeli food is like its people: a truly modern mash-up of ethnicities and viewpoints. It's also respectful of the past, steeped in tradition and custom. Though culinary innovation is key, the chefs doing the most important work here are those who, like Jeremias, have been doing it for a long time. 
"Americans think that they would find Eastern European food in Israel," says Gil Hovav, a former restaurant critic and food-TV celebrity in Tel Aviv. "Once they are here, they are shocked at the fact that almost nobody in Israel knows what knishes are—they never made it to Israel—that most people who do know gefilte fish hate it, that we do not eat bagels and that it is very difficult to find a decent kosher restaurant." Instead, they find Georgian pastries, Turkish shawarma, Libyan spicy fish, North African shakshuka, local cheese and wine, non-kosher sushi joints and tons of hummus. And in most cases, says Hovav, they fall in love.
"Israel is like the United States in a way," says Leon Alkalai, one of Tel Aviv's more pioneering chefs who now spends most of his time as a consultant and partner in Tony Vespa, a local pizza mini-chain. ("The people want pizza," he says. "Who am I to argue with that?") Cooking in Israel, Alkalai says, has always been about evolution and progress, and borrowing from the best of others.
"We came here from all over the world and we have all these different types of kitchens in one small place—Libyan, Bulgarian, Polish, Italian, Moroccan, French," he says. "Many marriages are cross-cultural. That's how the first fusion came about. But it has to move very slowly and very carefully. So you don't destroy the history when you're creating something new." There are all sorts of wild Israeli versions of fusion cooking. "Have you ever tasted a Yemenite pizza?" asks Hovav. "I just had one yesterday in the Carmel Market in Tel Aviv, baked on Lehouh Yemenite dough and sprinkled with Hawaij Yemenite spice mixture."
NEXT: "If the fighting has taught Israelis anything, it's to enjoy life."