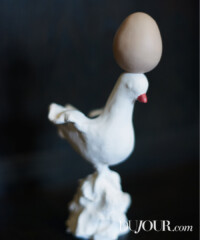 "I've never been desk-bound," says Simon de Pury, a faint grimace clouding his face at the notion. "I don't have a routine. In this business, flexibility is the name of the game."
It's this ability to stay elastic that has kept the 65-year-old, Swiss-born de Pury on top throughout his extensive career in art, as a curator, a dealer and perhaps the world's most celebrated auctioneer. Throughout a five-decade run, de Pury—who's been called "the man with the golden gavel"—has sold multimillion-dollar works of art across the globe in four different languages, transforming unknown artists into superstars and beguiling those he meets with his impeccable, aristocratic mien.
The room in which de Pury sits today, elegant in his signature navy blue double-breasted suit, is the result of his most recent reinvention. A capacious, light-filled space, it serves as de Pury's office, but is also part of his home; one of the five floors of a quietly grand Georgian house located in the heart of London's most exclusive neighborhood, Mayfair. "It's like a village; all the galleries and auction rooms are around here," he says. "I like to be at the center of it all."
He moved here three and a half years ago, not long after his departure in 2012 from the auction house Phillips de Pury and Co., of which he was chairman and head auctioneer. Now, he runs an advisory and curating consultancy, de Pury de Pury, with his wife, Michaela, a German-art specialist. They buy and sell art for collectors all over the world, including movie stars, musicians and, for good measure, a handful of billionaires. At an age when many successful men are retiring to the golf course to practice their swing, he still works as hard as ever. "If you slow down," he says with a smile, "it's fatal."
His office reflects his tireless passion for modern art, furnished with a sleek minimalist desk by French designer Martin Szekely, woven chairs by Franz West and a multicolored sofa by the Campana brothers from Brazil. It is littered with sculptures, including a doll by Japanese artist Takashi Murakami and an ashtray that could easily be mistaken for a commonplace repository for cigarette butts, but is actually a piece by Sterling Ruby.
There's a simple rule that de Pury follows when selecting artwork for his office: It has to be something he absolutely loves. "In most cases, it's done by artists I know and like; the great advantage of modern art is that the artists are still alive," he says with a laugh. "My taste is very eclectic. I believe in high and low; putting things together you wouldn't expect to find together. It's more fun, less static."
It is here that he worked on his new book, The Auctioneer, an insider's story of the high-octane art world. The memoir is packed with stories from de Pury's own life and career, from his beginnings in Swiss auction houses through his time as chairman of Sotheby's Europe to co-founding his own auction house, which became the formidable Phillips de Pury and Co. While de Pury claims not to be nostalgic—"I actually don't like to reflect back and am always far more preoccupied with the future than the past," he says—he was inspired to write by The Glorious Obsession, the famous French auctioneer Maurice Rheims' memoir, which he read as a young man. "The anecdotes of his life surrounded by art made me think, This is the life I was to lead," he says. "I have been blessed with a very stimulating life so far, and I always had the desire to one day make a light-hearted book of it all."
And while writing The Auctioneer required sitting at a desk, most of de Pury's everyday tasks allow him the freedom to roam. "[My office is] wherever I lay my hat," he says. "It could even be my daughter's playroom when she's at school." Indeed, the rhythm of his and his wife's day is dictated by 5-year-old Diane Delphine: "We walk her to school every morning and begin work when we arrive home."
Some days, he's putting together exhibitions—last year, he staged one by Russian artist Erik Bulatov in London, and he curated a Mario Testino showcase this spring in Dubai—others, planning an auction or hunting down an almost impossible-to-find work for a client. He travels often, but is surprised to find himself enjoying having a real home for the first time in many years. "Between my two marriages I lived in hotels for 12 years: Claridge's in London, the Mercer and the Pierre in New York—it was very convenient," he says. "I considered myself to be a gypsy, but being here is better. It is my home and my workplace. Combining the two feels very natural."
In fact, despite the storied career behind him, de Pury notes that his best days might still be to come. "I don't think you can ever get tired of art," he says. "I still have so many dreams."