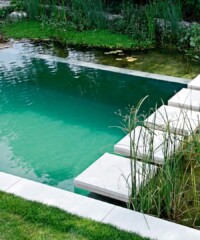 On a sweltering summer day, there are few things more refreshing than jumping into a swimming pool. What's not as pleasant is the pungent, eye-stinging chlorine that 95 percent of American pools use to stay clean. In Europe, so-called "natural pools"—ones completely free of chlorine and other chemicals—have become a popular alternative (around 20,000 have been constructed there). Now they're quickly catching on in the U.S. as "people realize there is a non-chemical alternative," says Alan Weene of BioNova Natural Swimming Pools, a company with branches in Europe and North America.
Not only do these pools liberate you from the time-consuming, costly maintenance associated with the chlorine versions, but they also enable you to jettison the noisy filtration equipment and make your backyard into a truly peaceful oasis. Natural pools rely on a zone of aquatic and plant life to maintain a cannonball-worthy environment. The color of these pools resembles a pond's—it's not the traditional Windex blue—and many are designed with natural elements, like rocks, local wildflowers and tall grasses, to help them blend into the landscape.
Mick Hilleary of Total Habitat, a company in Bonner Springs, Kansas, that has built about 40 natural pools, fell into the specialty through an unusual project. "In 1996, I had to build an otter exhibit where we needed to have clean, clear water without chemicals," he recalls. "When we were done and saw the otters having so much fun in the beautiful water, we said, 'We have to do this for us.'" His business started building them for non-otters in 2000.
Hilleary says a natural pool costs roughly as much as a traditional one. At first, home owners will need to put in a bit of labor on them. "This kind of pool works because of a rich, established micro-biome, and that takes time to 'grow,'" he explains. "The first year requires a little babysitting, but each year gets easier. The pools seem to enjoy neglect."
More and more people are making the switch to natural pools—and even one city. BioNova is currently working on constructing North America's first natural public pool for Minneapolis' Webber Park. It's scheduled to open in 2014.
Click through the gallery to see a few stunning backyard photos.
Photos, above: Courtesy of Total Habitat