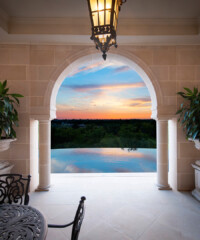 Luxury homeowners are bringing back more from their travels than just a basic souvenir. Now more than ever, frequent fliers return from their trips with a clear vision for the dream pool and spa in their backyards.
"I've had homeowners come back from vacations in Hawaii with pictures of a pool they want me to create in their backyard," pool designer and Master Pools Guild chairman Brad Cotton says. "Someone else came back with an idea for an elaborate tile design she saw at a spa."
After building up to 500 pools a year, with some designs costing upwards of $2 million, Cotton's seen it all. The latest pool trend: fire bowls and pits. "We put copper fire bowls around the pool that can be raised above the ground with the click of a button. They rise up above the pool, so the fire shimmers off the water. It creates such a beautiful look," he says.
Finishes made from pebble also continue to gain popularity and take the place of the longtime industry standard—white plaster. "Right now, a majority of homeowners want to go with alternate finishes for their pool. Pebble is actually much more durable, long lasting and more beautiful to look at than plaster," says Cotton.
Check out the gallery compiled by DuJour to provide some inspiration for luxury residential pool designs.