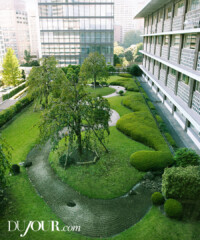 To enter the Hotel Okura Tokyo is to be teleported straight to 1960s Japan—a country newly embracing of International Style modernism, and a property imbuing the movement's pared-down aesthetic with a unique East-meets-West spin. The atmospheric lobby, a bento box of rich wood paneling, exudes a decidedly jet-set aura thanks to mood lighting from paper lantern–like chandeliers. Lowered a few steps from the main level is a conversation pit furnished with aerodynamic lounge chairs that cluster around red lacquer tables. First-time guests could easily imagine they've stumbled onto the set of a period film, and indeed the lobby has made memorable cameos in the James Bond flick You Only Live Twice and the Cary Grant comedy Walk Don't Run. 
Its star turn as mis-en-scène notwithstanding, the Okura has played another recurring ingenue role: muse to an international roster of design-world luminaries, who treat its public spaces as a sort of private clubhouse. Take a discreet glance around and you'll notice starchitects schmoozing with clients, renowned decorators sizing up the lighting scheme and off-duty product designers talking shop over martinis. Prominent dignitaries and heads of state have booked its Imperial Suite, but it's the designerati who lend the property enduring cultural cred. They're also the ones most vocally opposed to its future demise: The original wing is slated for demolition in September 2015 to make way for a new mid-rise tower, though the adjacent museum and 1973 South wing addition will remain undisturbed.
Kishichiro Okura would doubtless be thrilled that his namesake property, built in 1962, has proved so beloved. The Western-educated hotelier and arts patron had a yen for contemporary architecture; it was he who commissioned Frank Lloyd Wright in the 1920s to erect the famed Mayan-inspired pavilions for the Imperial Hotel in Tokyo. In conceptualizing the Okura some 40 years later, the hospitality mogul wanted to create luxurious accommodations that would appeal to the worldly sensibilities of an international audience—yet still capture and celebrate the uniqueness of the locale. Architect Yoshiro Taniguchi, a seminal figure in the country's postwar modern movement, was enlisted to create a forward-thinking yet carefully crafted design. (The name may ring a bell: His son Yoshio was the vision behind MoMA's 2004 makeover.) 
Taniguchi's 11-story structure pairs the long, lean lines and horizontal gestures characteristic of Western modernism with touchstones of vernacular Japanese architecture. Pagoda-ish flourishes perk up the roofline, while the facade is embellished with a plaster-on-tile treatment called namakokabe (which translates to "sea cucumber") that derived from a humble rural housing style. Some elements are even more stridently old-school: There's a tea-ceremony room styled like a private residence, complete with shoji screens and tatami mats; a verdant rooftop garden with sinuous raked-sand pathways; a Go salon for devotees of the ancient board game; and even an adjacent museum, founded by Okura's collector father, showcasing Buddhist artifacts and modern Japanese painting.
Taniguchi and collaborator Saburo Mizoguchi, who is credited with overseeing the design committee, enlisted prominent Japanese artisans to create myriad features: an outdoor lap pool with a meandering free-form edge, evocative murals, intricate wall coverings, decorative panels graced with a wavelike collage of layered paper. Although the guest rooms have been revamped over the decades—including a 1980s makeover by legendary British decorator David Hicks—the public spaces have been left relatively untouched: latticework wooden screens, stylized fern-print wallpaper that embellishes the Orchid Room and a patchwork damask wall treatment called nishikibari that swaths corridors. Even the elevator doors were considered a prime canvas for lavish artistry, dressed in gold-and-black silk brocade. Recurring motifs abound, from hexagons and lozenges to ginko leaves and abstract wisterias. (Hotel president Iwajiro Noda even published a book documenting the many patterns and their meaning.)
The Okura's design speaks of its era in more ways than one. On a purely aesthetic level, it highlights the shared stylistic sensibilities between Western modernism and traditional Japanese architecture, with their simpatico emphasis on organic materials, screen walls, two-dimensional patterning and horizontal volumes. But it also harkens back to a time when globalization didn't come at the expense of regional flavor, when the universal and the local could co-exist in a happy tension. Today, globalization is practically synonymous with homogenization: A luxury hotel chain's Tokyo property tends to look pretty much identical to its Shanghai or Azerbaijan branch. In contrast, the Okura, through its cross-cultural design, effortlessly straddles East and West, old and new, in a manner that proposes traveling as an inspired condition of in-between-ness—one to be celebrated at every turn. For guests, it's a perfect fusion of where you are, where you were and where you're going. Check in while you can.