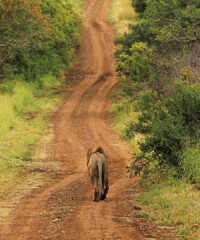 In the northeast corner of South Africa, a few miles from the Swaziland border, I drape my "binos" around my neck, tuck my pants inside my socks, as you do—to prevent anything "foreign" from crawling up inside, of course—and prepare to embark into the bush, a city girl in search of white rhinoceroses. It's nearing dusk, and we're at Thanda Safari, a 35,000-acre private game reserve in the KwaZulu-Natal province that boasts a complete set of Africa's "Big Five"—elephant, lion, leopard, Cape buffalo, and rhino—plus nine tricked-out suites, a private villa that sleeps 10, one of South Africa's best wine cellars and, now, the "exclusive" activity at hand: the chance to go walking with 5,000-pound rhinos. It's a prospect as terrifying as it is thrilling. Rhinos, we are told, will charge if they feel threatened, and they can run up to 34 mph. (Usain Bolt, meanwhile, maxes out at just under 28.)
Thanda was created by Swedish tech entrepreneur Dan Olofsson as a model of sustainable luxury travel, as dedicated to its conservation and research initiatives as it is to crafting an impeccable guest experience. A commitment to the socioeconomic and developmental needs of the tribal communities that surround it includes hiring guides and trackers born and raised nearby, and guests are also welcome to visit local Zulu tribal villages and schools. A three-hour drive from the coastal city of Durban (though with a heli-pad on site), the camp's tented and impeccably designed suite accommodations can be as rugged, or not, as you want: the tents are an electricity-free experience, while the suites have circular outdoor daybeds and private plunge pools (also: walls). The private villa, which comes with a full staff, including a private chef, was added with Olofsson's own growing family of children and grandchildren in mind—the ideal option for multigenerational, multi-interest groups. Here, there's something for every sort of safari-goer: Twice daily game drives are included in the rate but, in addition to the rhino tracking, there's plenty else to do, including photo workshops with the resident wildlife photographer, river safaris, private bush dinners and a full-service spa.
Our three guides—Barry, Daniel, and their leader, Morné, a charismatic, South African–born former exotic reptile dealer who can identify a rare bird on a tree from a few hundred yards away—work as part of Thanda's conservation team, which exists to monitor the health and safety of the animals throughout the reserve. This includes rescuing and rehabbing the critically injured and keeping up to date on their numbers, breeding success rates and overall well-being. Morné walks with a limp following an encounter last year with a wounded rhino he was helping rescue. Was it so scary? Someone asks. "No," he says. "It was hilarious. He really got me!"
I'd been on safari before. But until I traveled to Thanda, I had never seen a rhino without a full day (or more) spent looking for them and never without the aid of binoculars. A safari on the Maasai Mara in Kenya had turned up a rare sighting of two black rhinos, and a day searching at Etosha National Park in Namibia resulted in one white and one black—black being the smaller and generally more aggressive of the two—both fairly far off in the distance. This isn't all that unusual: throughout Africa, rhinos are among the hardest to spot of the Big Five and getting harder each year, due to a poaching epidemic that many say could wipe out the species entirely within a decade. That's why most responsible reserves have begun monitoring their rhino populations on a daily basis. In South Africa alone, poachers kill more than 1,000 rhinos a year, driven by a demand for rhino horns for use in traditional Chinese medicine—as a cure for hangovers, impotence, and cancer—and as tokens of good luck. A single horn can command up to $300,000. Conservation project Rhinos Without Borders estimates that a rhino is killed every eight hours.
Eventually, reserves realized there might be a real benefit to inviting guests to take part in the monitoring activity, a bolster for both the tourist experience and for conservation efforts. "The opportunity to be so close to such a prehistoric creature is magical—and the chance to be an active participant in saving one of the world's greatest species is unprecedented," says Mark Lakin, co-founder of eco-minded luxury travel planner Epic Road. The rush is undeniable, especially since most big game safaris have, until now, kept guests confined to the Land Rover, and most fees associated with outings go right back into programs meant to help save the animals. "Tracking on foot exposes one to the habits and behaviors of animals and often provides thrilling encounters that leave one with a deep sense of respect," says Warren Beets, Thanda's Reserve Wildlife Manager. "This kind of experience and sense of appreciation cannot be enjoyed from the comfort of a vehicle."
While many of Thanda's rhinos are tagged—and therefore locatable by GPS, for almost-guaranteed sightings—part of the fun is learning to rely on old-school tracking methods like spotting footprints, reading rhino dung ("It's like wildlife email," says Morné), and learning to notice where parts of the bush have been broken or trampled on. We've been driving for about 30 minutes when Morné finds some fresh rhino tracks leading into a mess of greenery undoubtedly filled with critters of all types and sizes. This, apparently, is our sweet spot. We unload from the Land Rover and form a single-file line behind him (and his rifle). Daniel is on lookout near the front of the group and Barry keeps an eye, and ear, out in the back. The guests chatter mindlessly as we whack through the brush until Morné stops short and Daniel turns with a sharp "Shhh!"
"It's very important that you walk as quietly and purposefully as possible," says Morné. "Try not to step on anything that will crackle," which of course is everything. "And listen to me at all times." Most importantly, he instructs, keep your cool and don't cry out, even if and when you see the rhino. Startling a rhino is a bad idea; discretion is key. (All of which is why most programs want kids to be at least 13, though often as old as 16, to take part in rhino walks. Listening ears, all times.) Morné stops and points: There's a rhino—three of them, actually—just on the other side of some bushes. We can hear them breathe (they can hear us, too, he says).
It's exciting, for sure, but also extremely nerve-wracking; I can't help but look around to plot which tree, exactly, I will scramble up should something come charging. The guides fuel the adrenaline with exaggerated movements and wide eyes, and while they're definitely having fun, it's not entirely a show. Morné tells us we're about as close as we should be but that our time is limited, and invites us one by one to stand beside him for the best view of the rhinos—who are, no joke, maybe 10 feet away—before saying, "OK. Now we get out of here, fast. Quietly! But fast."
Like at most reserves that offer rhino tracking—including Wilderness Safari's Desert Rhino Camp in Namibia's Damaraland region (where Prince Harry famously spent a summer working with black rhino conservation), Saruni Rhino in Kenya, the Ziwa Rhino Sanctuary in Uganda, and Edo's Camp in the Kalahari area of Botswana—Thanda's rhino-monitoring program was already in play before management decided to bring guests along. Recording data on animals, and especially those most endangered, helps responsible parks and reserves monitor threats (human and animal), including effects of habitat management and intra-species fighting over territories or mates. But as rhino tracking on foot becomes more of a draw—and like anything special in travel and life—reserves will have to limit availability, if not demand. In Namibia, Grootberg Lodge in Damaraland has called for a managed approach to tourist participation after rhinos showed signs of distress.
At Thanda, Beets says that the number of rhino-tracking experiences sold to guests "isn't high enough to impact the animals dramatically" but that the reserve is taking steps to ensure such impact stays low. Our own trek was cut short because Morné felt the animals had become too aware of human presence, and he could sense they were starting to get agitated. In choosing a reserve, say the guys at Epic Road, it's important to find out the credentials of its wildlife teams: Why do they run the program and is their work making an impact? "The intention is to have the rhino-monitoring work drive the guest experience, and not have the guest experience be the reason for the rhino-monitoring," says Beets. "The whole point is to be as sensitive as possible. The best type of sighting is one in which the animal did not even know you were there!"