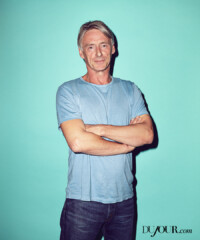 Paul Weller has nearly four decades of experience as a certified rock star under his belt, but sitting in the lobby of a Manhattan hotel during a tour for his latest album, Weller's nothing if not easygoing and approachable. Perhaps what's made him such a compelling figure over the years—from his time in seminal bands like The Jam and The Style Council to his still-hot solo career—is just that, the sense that even though he's world famous and preternaturally talented, he's not so different from the rest of us.
Here, Weller talks to DuJour about his latest album, Saturn's Pattern, his clothing line, Real Stars are Rare, and just how someone who's not comfortable in front of the camera has found himself the subject of an awe-inspiring coffee table book.

You're on the road, touring in support of Saturn's Pattern. Does it feel different than it did in the studio? 
The songs take on a different life when you start playing them live. But I have confidence in the new material; we've already been out in Europe, so we've road-tested them.
How did you start on this record? Was it your plan to write a full album from the start?
 It began when I'd written six or seven songs for [previous] albums, but none of those had made the cut. So it was kind of like, if I wrote these songs, I'm gonna make a record like that. So we just started again. I gave everyone a brief: I wanted it to be big drums; I wanted it to have a groove to it and a feeling of dance or movement. That was it.
What came first, music or lyrics?
Probably the music in this particular case. We improvised and cut the songs and then we had the title track. And once we had the title track we knew that's where it was going.
Are you always writing with the idea of releasing a song?
I'm always writing, so I'm always looking to write a record. No one really wants you to put out a record every year anymore, which is kind of weird for me, so you typically write one every two years these days. I've never wanted to do anything else, but the older I get, the greater appreciation I have of what it is I'm doing. It hasn't really ever lost its fascination for me, and I think just watching a track materialize over the course of an evening is wonderful. There's something magical about it.
Do you ever think along the lines of this is going to be my last album?
There isn't any bit of self-doubt in whatever I do. I always feel as if I'm trying to improve, but I don't think it's for other people. I think it's more for myself.
I feel like other people you've probably won over at this point.
Hopefully. Once you finish a record and you can't have other people hear it, you obviously never know [what they'll think] until that time comes. But I suppose it is a confidence thing—at some point in time, everything you've got left over, you got to put it out.
And so what's your favorite part of this one?
There's a track on it called "Going My Way." It's quite rare for me to think of a track or a song that is perfect—I'm very, very critical of my work—but I think "Going My Way" is about as perfect as I could make it.
You're out on the road for a while now. What do you like best about touring?
I like the gigs. You know there's 24 hours in a day, two of those hours I'm on stage and the rest of them are just necessary to get to the gig. The only downside for me is missing my kids, but I love the camaraderie and I love the team. I just love playing music and I love playing live.
You're also making your own line of clothes. You're a guy who can probably go out and buy anything he wants. Why make suits for people?
I've always wanted to do it. I've battled a little bit with how to cut the suits, and prints and stuff like that, but why do it? Certainly not the moneymaking. Just because I could, I suppose. That's the thing. It took at least two years for us to get to a collection, but it was interesting and I learned from it. And whether I would do it again, I don't know.
There's a new book out of portraits of you by Lawrence Watson taken over the years. Do you like being in front of the camera? 
I've gotten used to it, I suppose. It's not my favorite thing to do, and I don't think I'm very good at it either. 
So how did you weigh in on the photos that are in the book?
That's tricky, because you're trying to be objective and think about what works on the page, but you can't. I can't do that myself. I let them have the final call.