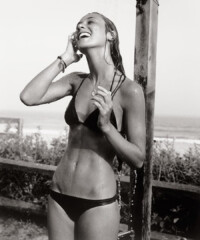 This July, Michael Dweck's The End: Montauk, N.Y. will debut its expanded 10th Anniversary Art Edition Box Set, celebrating a decade since its instant success.
Dweck—an acclaimed American photographer, filmmaker and visual artist—captured the true essence of Montauk through an idyllic and erotic surf narrative. Now, he's returned to reaffirm predictions he made of the fishing village and to reflect on the legacy of his original work, published in 2004 and currently selling for more than $30,000 on the private market. The expanded and signed edition—retailing at $3,000—will feature an additional 85 unpublished photographs, reflective essays by Michael Dweck, Peter Beard and Rusty Drumm, a signed silver gelatin print and a handmade clamshell box. A portion of proceeds will go towards maintaining the waterways and beaches of Long Island through the Surfrider Foundation and the Ocean Conservancy.
If you're eager to get your hands on the collector's piece before July 4, head over to ditchplainspress.com for an advanced copy. Until then, click through the attached gallery for a sneak peek inside.