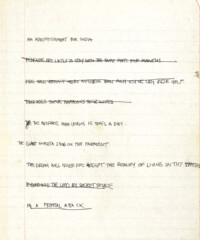 Jean-Michel Basquiat is best known for the work he did on canvases and, of course, on walls across New York City. But thanks to the new tome Jean-Michel Basquiat: The Unknown Notebooks, the late artist's works on paper—a collection of notes, poetry, drawings and sketches edited by art aficionado Larry Warsh—are having their own moment in the spotlight.
Warsh's journey to Basquiat's notebooks (which are also on display through August 23 at the Brooklyn Museum) began in the mid 1980s, when he acquired the papers from Michael Holman and Nick Taylor, former members of Basquiat's band, Gray. Since then, he has worked with Basquiat's father, Gerard Basquiat, and others to organize the pages of the artist's most intimate thoughts. "I was quick enough to understand what these things were and how important they really are even though they were not deemed so important then," Warsh says. "If you analyze Jean-Michel's work, the whole body of it stems from letters and words. His practice actually was built up over these words combining collage, oil stick, paintings, drawings—all kinds of stuff." 
Over the years, Warsh has developed a keen interest in the cognitive displays of artists (before Basquiat, he compiled Keith Haring's subway drawings) so it comes as no surprise the art collector took interest in these "unofficial" pieces. "It positions Jean-Michel as a written voice in a stronger way," he says. "It really opens up his work to a whole other audience from a literary point of view."
Thanks to Warsh, Basquiat's admirers can now enjoy a new perspective of the artist.  "I'm a lover of art and it's just interesting to see the snippets from his consciousness that primes a little bit beneath his consciousness," says Warsh. "It's amazing to have a sense of artists' writings." 
See inside the mind of Basquiat by clicking through the gallery above.