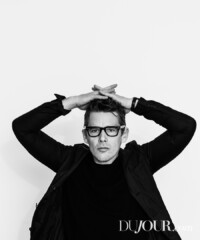 "Nobody thinks I'm funny," Ethan Hawke laments, sitting inside on a rainy Brooklyn afternoon. With more than three decades of moviemaking behind him, Hawke's been called plenty of things—after all, he's been in the public eye for more than 30 years—but he's right that funny isn't often one of them. It isn't, he says, for lack of trying. "I would love to do comedy, I really want to. My life goal is to be in Talladega Nights 2, or something like that, but I'll never get the offer."
The offers that do come over Hawke's transom might not always be knee-slappers, but the parts he's taken over the years have been something other than funny, they've been serious or smart or offbeat, and they've made him one of the most watchable, interesting actors in Hollywood today.
His latest work, Born to Be Blue, is no exception. A look at the life of jazz great Chet Baker—though deftly constructed to avoid the trappings of a traditional biopic—finds Hawke tackling a broken man whose demons are stronger than love or money. And while Baker makes the kind of mistakes it can be hard to watch, there's also something about him, in Hawke's portrayal, that compels audiences to believe maybe this time things will be different. These complications are part of what attracted Hawke to the idea in the first place.
"The long story is I was about 26 or 27 when I started to develop a movie about Chet Baker, a day in his life in his early 20s," says Hawke, who's now 45. "As we were developing him, it took us too long to get the money and I got too old for the movie we conceived. It was sad for me because I really loved Chet."
Fifteen years later, while Hawke was in Toronto making another film, the screenwriter and director Robert Budreau slipped him a script about Baker and it immediately struck a chord. "This movie had a really interesting hook: It starts with watching Chet Baker play himself in a movie," Hawke explains. "In general I don't really like biopics. They are usually a platform for an actor to be great, but they don't make for great cinema. They are usually kind of forgettable. And this one, by virtue of being the film within the film, announced itself right off the bat as not being the definitive true story. This is not some wannabe docudrama. It's trying to be a jazz film that explores the legend of Chet Baker."
Blue does just that, and does it very well. Hawke's Baker isn't painted just as a virtuoso or a junkie or any one thing, but a charming fuck-up with any number of different facets. There are times when the audience can't help but feel bad for him, but he's also never a hero. In a glowing review, the New York Times raved, "In Mr. Hawke's extraordinary performance, this glamorous enigma becomes a credible, if pathetic character." 
If it's a crack at humor that Hawke's still looking for, the forthcoming Maggie's Plan—a smart, wry romantic comedy in which he stars opposite Greta Gerwig and a top-of-her-game Julianne Moore—gives him something approaching that chance.
"There is such a low bar for romantic comedies; there's a huge part of the populations that loves these movies, and yet they are never given a good one," Hawke says. Considering the high caliber of the Maggie's Plan cast and savvy of director Rebecca Miller (The Private Lives of Pippa Lee), Hawke notes, "I knew we had a shot to make a wonderful romantic comedy." 
For Miller, putting Hawke in the roll of the brilliant—if romantically bumbling—hinge in a love triangle seemed like a no-brainer. "I had wanted to work with Ethan for quite a long time—I had met him years ago and really been struck by him—but I wanted to see him in a different kind of part," she says. "Every single day he had ideas about different ways of doing things, different ways of moving, different ways of interpreting what they were doing. He always wanted whatever was the best for the film. It wasn't about his ego, it was about getting the work done and doing what was best for the movie." 
Perhaps it's that work ethic that explains why Hawke is so busy. He's a regular on the New York stage, and he's no stranger to the written word; his third novel, Rules for a Knight, was released in 2015. In the coming months Hawke will star in the spaghetti western In A Valley of Violence, he'll play a gunslinger in Antoine Fuqua's The Magnificent Seven and he'll appear opposite Sally Hawkins in the 1930s love story Maudie. 
Still, if nobody thinks Hawke is funny, at least they think he's smart. Recently Richard Linklater—a close friend who's collaborated with Hawke on a number of projects—said, "If everyone had as high a standard for what they are striving for and made the choices Ethan makes, it would be a much better cinema landscape."
For his part, Hawke says making his choices isn't all that complicated. "I've always given myself permission to do that cliché and follow my nose," he says. "Sometimes it leads me right into a pile of dog shit, but often it will lead me to where my heart wants to be. In general, when you are doing what you love, things go well."
In main photo: Jacket, price upon request, BALLY, bally.com.
Grooming: Jordan Long using La Mer at Starworks Artists