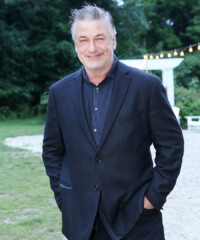 This past Saturday, Hamptonites rejoiced in the unveiling of EMP Summer House, a spinoff of Eleven Madison Park in New York City. Spearheaded by OG EMP chef Daniel Humm, the pop-up is designed to be a fun-filled, beachy placeholder while the original undergoes a facelift.
A certified fine dining heavyweight and the current "World's Best Restaurant" titleholder, the EMP brand brings serious pedigree to its new East Hampton hideaway, previously occupied by the sleepy eatery Moby's. But the indoor/outdoor outpost is a lighthearted spin on the original Eleven Madison, serving up backyard-inspired creations from black truffle-infused Humm Dogs to garden gnome-shaped cocktails, while a separate indoor menu delivers classics like poached lobster and bouillabaisse.
A collaboration with American Express, the EMP Summer House requires an Amex Card to make a reservation. Fittingly, the opening party drew a crowd of high rollers, from Brad Goreski to Alec Baldwin, with music courtesy of Hannah Bronfman. And while guests may have been swiping Amex cards left and right, the plastic really started flying at the Ping-Pong tables out back, where Vanessa Hudgens and friends were spotted duking it out.
While tables are currently booked through most of the season, the summer fun continues on July 1st when reservations for August 15th through Labor Day will open up.