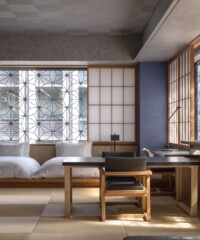 Japan only reopened to post-COVID-19 tourism in October, and it has, quite rapidly, once again become a choice destination for many Americans. In part, that's because visiting the country is such a multi-dimensional journey. Traveling in Japan is chock full of genuinely extraordinary possibilities, whether that means seeing sakura, or cherry blossom trees, in bloom in late spring, hanging at a micro-pig café with some adorably small pigs, or checking out the recently opened Super Nintendo World in Osaka.
Indeed, once you get to Tokyo, everything is a bit, well, out-of-this-world, so Japan Airlines (JAL) makes the in-flight journey to its home country a particularly special experience. Is there another airline that will lend you a cardigan—made in collaboration with the design firm Nendo—should you feel particularly chilly as you lay in your 180 degree fully flat-bed in your business-class Sky Suite? These days, you're lucky if a U.S. airline offers you a pair of socks and a lip balm sample.
But, cardigan included, that's all part of how JAL embraces the concept of "ichigo ichie," literally "one time, one meeting." It's a Japanese philosophy of savoring and making the most of every moment.
To that end, JAL pays special attention to its in-flight menus, which have been developed in collaboration with several Michelin-star chefs. The company refers to its JAL BEDD Sky Auberge catering as "your exclusive restaurant in the sky." The extra "d," following that 180-degree fully flat bed, they say, stands for "dine, delicious and dreams."
Menus are arranged with enormous care and specificity. There's a special page for "Anytime You Wish" selections that give travelers an on-demand opportunity for, among other items, a salmon roe rice bowl; JAL's special chicken soba noodle, or a blueberry bagel with smoked salmon and maple cream, basically anytime during a flight they want. (JAL regulars suggest you ask a flight attendant early in the flight to put aside what you'd like for later, should anything run out.)
Travelers are also given their choice of a Japanese Menu or a Western Menu. A recent dainomono, or main course, on the Japanese side, designed by chef Jun Mishina, included braised beef with garland chrysanthemum; Udon mountain vegetable and burdock; deep fried salmon with asparagus and a curry notable for being on the menu at Mishina's restaurant in Ginza. Even the bread selection—recently a matcha green tea ekmek was on offer—comes courtesy of Maison Kayser.
If nothing else, the JAL food menu is a good primer for what's to come as you make your way through Tokyo. As a tourist in Japan, every day involves learning lots of new words and concepts. Upon arrival back at home in New York, among the many things I Googled was "ekmek." Even after my research, I still can't figure out how it relates to bread, or why the matcha green tea ekmek, basically a green roll, was so good.
Food is particularly important to the JAL brand. The airline recently sponsored a sold-out pop-up of Noma, the globally-renowned Copenhagen restaurant, at the ACE Hotel in Kyoto. Once on the ground in Tokyo, you can visit the JAL Agriport, an agricultural center, close to Narita Airport. Though the main focus of the Agriport is to promote initiatives with various regions in the Chiba Prefecture, the real star attraction here is an excursion to pick several kinds of strawberries in a strawberry-themed greenhouse—or is it a redhouse, or a pinkhouse? The varietals are truly scrumptious, as good as any dessert you'll find in Tokyo.
A hop, skip and a jump from the strawberry mecca is the Dining Port Goryokaku. A lunch of JAL favorites—soba noodles included—can be washed down with the airline's specialty drink called Sky Time. Introduced in April 2021, it's a non-alcoholic peach and grape mix. At the Dining Port, you can mix it with iced tea, ginger ale, or, really anything else, to prepare to quench your thirst in even more eclectic ways on your flight home.
For even further immersion in JAL, anyone is welcome at the airline's Sky Museum, located inside the JAL maintenance center, adjacent to Tokyo's Haneda airport. In addition to a flight into JAL's history, which has included partnerships with such Japanese icons as Hello Kitty, you might be able to tour the airplane hangar. Don't miss the gift shop for all your JAL souvenir needs, exclusive, of course, of fresh strawberries.
Though JAL's influence is particularly apparent all through Tokyo, here are a few other things you might check out while you're getting to know this amazing, retro-futuristic city.
TO SLEEP
In a city known for impeccable service, the Four Seasons Tokyo at Otemachi stands particularly tall. 39 stories tall, to be exact. This 190-room hotel, not yet two years old, occupies the top six floors of the Otemachi One Tower. Of particular note: Pigneto, a relaxed brasserie that shows off a contemporary Japanese take on Italian cuisine, and the Infuse Spa, where an hour-long Yakusugi massage evokes the peacefulness of forest bathing and cedar trees.
Trees and plants swarm through the lobby of the 206-room Tokyo Edition Toranomon hotel to create an indoor garden that is both a site-specific installation and an incomparable oasis that feels far removed from the hustle and bustle of the Tokyo that lies just outside and downstairs. The Edition chain is so popular here that a new construction in Ginza with a more intimate 86 guestrooms is scheduled to open later this year.
Now that I'm back to my ordinary life, I've been dreaming about moving back to Japan and into a ryokan. They're usually not in big cities, because they're more traditional Japanese inns, where you get to enjoy a hot spring bath and sleep on a tatami mat. You wouldn't have to ask me twice if I'd like to move into the Hoshinoya, a luxury twist on the traditional ryokan in Otemachi. It provides an intimate, peaceful, and shoeless world away from any world you've ever been in. (You leave your shoes when you walk into the hotel, in a box, and only get them back when you go out again.) Of particular note: the Onsen, or bathing hot spring, that resides on the hotel's highest floor.
TO EAT
It may be crazy to think that a city known for sushi and tempura would have its share of amazing pizza, but then you visit this refreshingly low-key, hard-to-find pizza place, Savoy Tomato and Cheese, in Roppongi Hills and your mind will change instantly. Go for a simple and perfect Margherita. The lunch special is an amazing deal, but like many foodie places in the city, they only take cash.
Yes, we make fun of 7-Eleven in the States, but in Japan, it's like going into Erewhon, the incredible health food chain in Los Angeles. They're everywhere, but also stock just so much crazy stuff. It certainly beats any fast-food restaurant for a late-night snack. People flip, with good reason, for the smooshy, pre-packaged egg-salad sandwich on white bread, and frankly, the ice cream and candy selections are incomparable, too. I found a kind of chewy, German, Skittles-like candy called Hitschies, and a milk-flavored Korean Moon Pie that just blew my mind
I'm not one for pork cutlets, but longtime chain, Maisen, is all about them, and eating here will make you think about pork cutlets, probably, forever. There's usually a line to get into the unassuming restaurant, reminiscent of a kind of 50s Japanese Denny's. (I went to the one in Omotesando, a short walk from a Chanel, a Celine, and all the other high-fashion labels.) But once you take a seat and bite into a cheap and cheerful Tonkatsu sandwich, also on white bread, there will be a time before you ate at Maisen, and a time after.
TO DO
It's impossible to get into the Ghibli Museum, devoted to the films of Hayao Miyazaki. Like many things in Japan, you have to book months in advance. Though you won't find Kiki, Princess Mononoke or a Totoro here, Time Lab is an immersive art experience through flora and fauna that has proved such a popular attraction that the international art collective plans to open another permanent exhibit in central Tokyo this year. (Kim Kardashian may have also added to the furor.) Forewarning: the experience is shoeless and involves stepping into lots of actual water. Some of the "rooms" may have made me a teensy bit nauseous and/or given me Athlete's Foot, but it's still incredibly cool and I recommend going if you can.
Deep in Tokyo Station you'll find an entire shopping and eating floor devoted to some of Japan's most beloved animated characters. Like much of Japan, it's overwhelming, but here's where icons like the aforementioned Totoro; Miffy, the Dutch bunny created by Dick Bruna in 1955, and all the Pokemon are actually willing to be caught. If you don't want to eat at the café devoted to Kirby, the puffy pink Nintendo whoknowswhat, you can venture elsewhere in Tokyo Station for many, more traditional food options. The slurping is particularly justified in a corner called Ramen Street. We suggest Rokurinsha, though finding your way there from Character Street is a journey unto itself.
There are a lot of shopping areas in Tokyo—I can't even count how many Gucci store fronts I saw—but I most enjoyed shopping in Ginza. Highlights include: the neighborhood's especially impressive Dover Street Market; Itoya, a twelve-floor department store basically devoted to stationery and pens (my dream); Hankyu Men's Tokyo, a department store devoted just to contemporary menswear; and the 500,000 square-foot, art-filled Ginza Six mall, designed by Yoshio Taniguchi (who also designed MoMA). Ginza Six features plenty of expensive Japanese domestic brands as well as international labels like Loewe and Dior. With all the fashion, however, don't miss Tsutaya, a fantastic art bookstore with plenty of gift options on the Ginza Six top floor.