When I was young, I fell into fashion through fantasy. I had always imagined a place where practicality was non-existent and glamour reigned free. For me, this is what fashion was all about: over-the-top, all-consuming beauty. When fashion became my business years ago, I realized that the fantasy I'd dreamt of actually had a place in this world—on the runways, in magazines, on my clients and, of course, on the red carpet.
People are always so surprised when they hear how much effort it takes just to create that one moment. The process of creating a gown for the red carpet is not only exciting, but extremely personal for me. It's a time when I can allow my imagination to take over, and I'm able to create pieces that reflect who I am as a designer and, more importantly, as an artist. The process begins with the team at my atelier. Behind closed doors, we let our minds lead. Inspirations, references, fabric samples, treatments—everything is laid on the table. Of course, there are certain occasions where we work with a celebrity closely to create her look. We've dressed Jennifer Lopez for a number of occasions, and it's always a pleasure to connect with another creative. It's a meeting of two completely different worlds, but equal passions.
The physical production of one gown can take up to 300 hours of work. Kristen Stewart's fall 2012 couture look (below, left) for London premiere of Breaking Dawn took nearly 1,000 hours to complete! Every detail is treated with the utmost attention and dedication. I wouldn't have ever had a chance on the red carpet if I didn't work this way—precision is what makes headlines.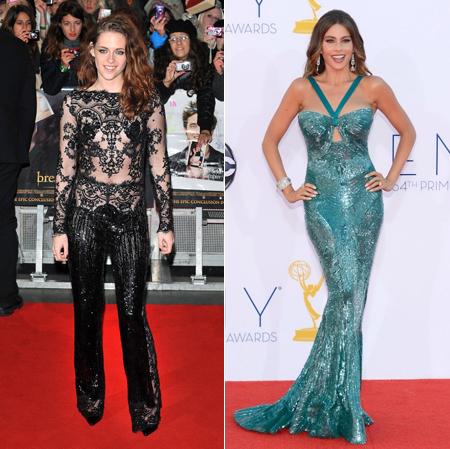 After several months, the look is complete and we send it away. Once the dress is out of your hands, you can only imagine all obstacles that could possibly expunge our tireless work. Sofia Vergara's gown (above, right) from my resort 2012 collection incidentally ripped only moments before she won! Luckily it was fixed, and she shared a funny tweet that night about it.
But when the car door opens, and you can see your designs emerge on the red carpet, it's a feeling like no other. The calls rush in, the praise from friends, the orders start to pile—it's a glorious feeling. Every designer can attest to this surge of happiness.
My atelier recently completed our fall 2014 couture collection, and we're currently putting the finishing touches on our spring 2014 RTW. We're eager to see if any of our looks make it on the carpet on Sunday—I'm predicting high-volume glamour, daring cut-outs and form-fitting silhouettes. Even if we aren't featured, it's always exciting to see what does makes the cut. It's like the Olympics of fashion, a battle of the best!
MORE:
The Biggest Trends from New York Fashion Week
How to Wear Heels and Look Great
The 8 Best Dressed at the 2012 Emmys