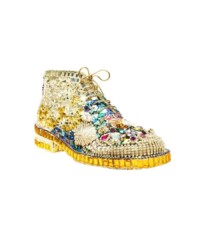 She may be the wife of a shoemaker whose moniker is practically a household name, but Jane Weitzman has her own talents—namely those that revolve around philanthropy and nurturing young artists. This is made evident in Art & Sole, a new book of photographs lensed by Lucas Zarebinski showcasing mixed-media shoes that are true showpieces. "All of the shoes are made by artists I found while traveling," says Weitzman. "I began to collect them, and since I was involved in dressing the windows of our first retail store I thought, why not create a space around one of these pieces of art?"
These "fantasy shoes," as Weitzman refers to them in the pages her book, were quickly noticed by loyal customers and local passerbys alike, and as time went on Weitzman says, "I started to be approached by artists who were interested in creating shoes for the store windows." Now, as some have been sold and some remain in Weitzman's personal collection, 150 shoes out of the total 1,000 discovered by her are on display for all in Art & Sole. Available on September 2, the book's proceeds will also go toward ovarian and breast cancer research, a cause near and dear to Weitzman's heart.
Whether it's a platform made of dahlias, a glass bootie or a pump made from pure gold, these shoes aren't exactly made for walking, but they sure are pretty to look at. Click through the gallery to get a sneak peak at the beauty behind Art & Soul.