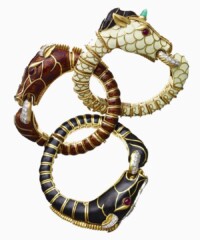 When New York newcomer David Webb opened for business in a walk-up on 2 West 46th Street, "it was no chic address," wrote gossip columnist Liz Smith. "But if you've got what the Beautiful Folks want, they find you."
What society's well-heeled and deep-pocketed wanted were the gems of couturiers Coco Chanel and Christian Dior, but word of a young jewelry maker David Webb from Asheville, North Carolina, was getting around. It was the late '40s, and Webb was on the verge of becoming the go-to jeweler of his day. As Liz Smith wrote, "Women came shopping while their chauffeurs waited downstairs." What drew them? The exotic, intensely saturated modern designs, of course, but a reputation for custom styling and a lingering Southern charm from Webb's boyhood certainly helped.
"He was the ace salesman of his boutique and apparently had a winning manner with the ladies," says Ruth Peltason, the former senior editor of Abrams' design and style books and author of the recently published David Webb: The Quintessential American Jeweler (Assouline). "He would whisk off a customer to a private room and win her over with his Southern charm, at once ingratiating and witty."
With a vast clientele that included the biggest icons in film, leadership and style—everyone from Doris Duke to the Duchess of Windsor dripped with his diamond-encrusted fine jewelry—Webb left behind a legacy and a house that today is praised for its always-modern aesthetic and beloved just as much for its jewels, past and present. Click through the gallery for a look back at the pieces that made his customers fall in love.