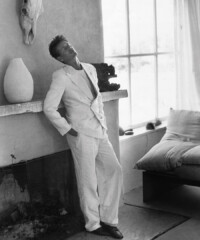 Imagine that your most meaningful possessions were to be collected and set aside for storage in a sole space. What would you send off into history? Would there be photos of loved ones? Perhaps an antique painting, mysterious in value as much as it is in origin? For Calvin Klein the man, such a place does exist, and it's replete with photography, clothes and stories. Lots and lots of stories.
Established in 1968, the same year as his eponymous fashion label—then still a small coat shop based out of Manhattan's York Hotel—Klein's archives span two rooms today. The first of which is a historical library of sorts—printed books, raw images and visual accoutrements—while the other holds garments from nearly every fashion collection created by the designer. Attached to them are Polaroids, taken backstage, from each item's runway debut, along with the date of the show and team members from the season. "I saw my whole life in front of me," Klein says, reimagining the space. It is there where he has spent the last few years, quietly yet thoroughly reliving each and every memory for Calvin Klein the tome—the first monograph from the seminal designer, available this October through Rizzoli.
At over 400 pages the book is behemoth, and loses the chronology of the standing archives to weave together decades, ideas and emotions in striking editorial. A bare-bottomed Kate Moss, whom President Bill Clinton condemned so many years ago for her work with Mario Sorrenti for the brand, is seen pages away from a shadowed Nathalie Gabrielle and Rick Arango flying through the air in mid-embrace, lensed by Bruce Weber half a decade earlier. The blending effect is one of timelessness, something that the designer says was necessary to make the portfolio, which spans three to four decades, still relevant today.
"I had to go through 40,000 images all over again," says Klein, who edited the photography himself the first time. "Thirty years ago I would have Si Newhouse [Jr.] on the phone screaming at me, telling me I'd be thrown off the newsstands in Florida because they were too risqué. I'd tell him, 'You have to have courage. You have to have courage!' I realized that they didn't look dated. Today, they still hold up, which is a key thing. I wouldn't have made the book otherwise. The only difference is back then we didn't have the power of the Internet. Still, I managed to create an impact around the world."
Divided into three chapters, the volume considers Klein's most compelling moments, from the creation of his fashion house to his retirement from it in the early aughts. There are the obligatory names, such as Brooke Shields, whose 1981 "Nothing comes between me and my Calvins" campaign defined not only her career but the spirit of the time, and the many collaborators—iconic photographers such as Irving Penn, Richard Avedon and Patrick Demarchelier. There are also instances of reflection as we're offered a rare glimpse at the softer side of the agitator, what noted art director Fabien Baron, who collaborated with Klein for many years and on the book, offers as "the other Calvin Klein." There's an homage to Kelly Klein, his wife and creative partner for decades, whose fingerprint can be seen on nearly every campaign and collection under the brand, including Eternity, the scent about the two falling in love; as well as the Baron Nicolas de Gunzburg, a pioneering Vogue editor that closely mentored the designer throughout his early career. "He had an eye and taste unlike any other," Klein remembers. "Every season I'd preview the collection to Niki, and after we'd go to Bill's on 40th street, a writer's hangout. He'd sit down, take a deep breath, and tell me, 'Now tell me, Calvin, what's wrong?' Niki was brutally honest, but he taught me to follow my gut—to always remain true to myself."
A designer lauded for modernity and incitement, Klein says he is ultimately not someone that likes to look backward and, because of that, the process of writing the book was even more challenging. "I live in the present," he expounds, "and plan ahead." Still, with introspection comes sentimental hindsight. "More than half of my life sits with the archives and in this book now," says Klein. "I don't get emotional very often, but it is very emotional. That is the only way to describe it."