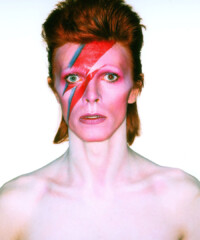 On what would have been David Bowie's 71st birthday, the glam rock gods seem to be shining on the many fans still holding a candle for the late rock superstar. Earlier today, Bowie's longtime producer Nile Rodgers dropped an unreleased demo of "Let's Dance." The unvarnished track, featuring pared down vocals and exuberant adlibs, wasn't the last of the Bowie birthday surprises; this afternoon, the Brooklyn Museum announced a full slate of public programming surrounding its forthcoming exhibit "David Bowie is."
Organized by London's Victoria and Albert Museum, the exhibit explores Bowie's decades-long reign as rock's resident alien through 400 multisensory artifacts – from spacey costumes to original artwork. Originally announced last fall, the exhibit's Brooklyn residency will cap off a five-year tour across the globe.
Supplementing the exhibit's cabinet of curiosities, the Brooklyn Museum will present eight live engagements, from film screenings to dance parties. Highlights include immersive screenings of Julian Schnabel's Basquiat and Todd Haynes's Velvet Goldmine as well as a Ziggy Stardust-themed party co-produced by Brooklyn dance den House of Yes (costumes encouraged). The lineup will close out on June 28 with a screening of assorted music videos in the museum's sculpture garden, followed by remarks from "Life on Mars" director Mick Rock. Click here for the full itinerary.
"David Bowie is" runs from March 2 to July 15 at the Brooklyn Museum. Click through the gallery for a sneak peek.