Last night, YOTEL New York celebrated their second year of partnership with STRADA Customs. The Chinatown-based custom bike makers worked with YOTEL on six co-branded bicycles that hotel guests can use during their stay in the summer months. In celebration of Bike Month, STRADA Customs was on hand to construct a custom bike at the party at YOTEL from start to finish, and guests were able to enter to win the bike they watched get built.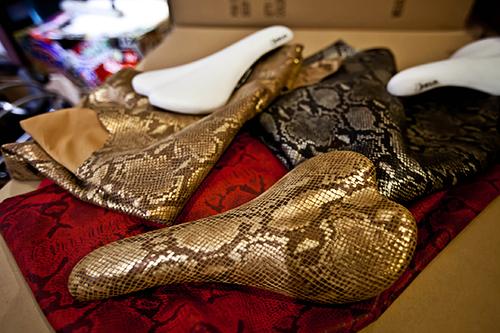 Each of the bikes was designed by STRADA founders Cory Ng and Tommy Leong with the theme Year of the Snake, based on the 2013 Chinese Calendar. The bikes feature snakeskin patterned leather seats in colors like raspberry, gold and silver, with frames built from 4130 Chromoly in colors such as grey, navy and sky blue. They are strong, lightweight and appealing to both habitual and occasional bikers.
YOTEL's custom STRADA bikes are available for hotel guests, who can book the bike at the concierge desk. The bikes are stored nearby at Bike and Roll at Pier 84.