It's the spookiest month of the year with Halloween just around the corner. The sun may be settling down earlier, but that's no reason for us to. Extend the evening with a dessert that delights and intrigues you.
Whether you're in the mood for some devilish dark chocolate or a cracking good creme brulée, there's no shortage of hauntingly good desserts. Check out our picks for ones that'll leave you howling at the moon and on the hunt for more.
1. KIN KHAO – Black Rice Pudding (San Francisco)
Take a trip to the dark side with an exotic treat at Kin Khao in San Francisco, where Black Rice Pudding is drizzled with caramel, salted coconut cream and a sprinkle of rice praline.
2. R2L – Warm Vanilla Cake with Caramel (Philadelphia)
For those who love ooey gooey caramel candy, the Warm Vanilla Cake at R2L in Philly is right on so many levels. The restaurant's wraparound windows offer the perfect view for lingering over an uncannily good sweet.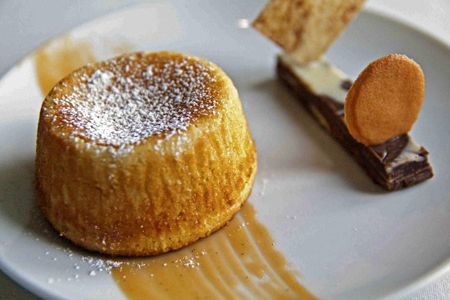 3. WOLF – Yuzu Souffle (Los Angeles)
The cup runneth over at Wolf in Los Angeles with a sugar-dusted, sweet dessert puffed up to perfection. The Yuzu Souffle is topped with a scoop of rhubarb ice cream for an undeniably great way to end the meal.
4. BEARNAISE – Pumpkin Profiterole (Washington D.C.)
A tasty treat just in time for fall, the Pumpkin Profiterole at Bearnaise in Washington D.C. is a pastry-meets-ice cream dream, oozing with dark chocolate sauce and sprinkled with powdered sugar.
5. COSME – Husk Meringue with Corn Mousse (New York City)
At Cosme in NYC, the showstopping, most Instagrammed dessert of 2015 — a gorgeously crushed pastry spilling sweet corn cream — is eerily delicious in all the right ways.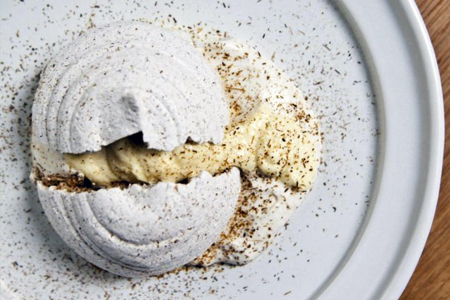 6. CONTRA – Puffed Amaranth (New York)
With a regularly changing menu, Contra in New York City will keep you on your toes with endless displays of its sweet expertise. Expect the unexpected with intriguing flavor combinations and tempting textures, like its Puffed Amaranth made with buckwheat mousse and yogurt sorbet.
7. ROOT – Chocolate & Hazelnut Creme Brulée (Philadelphia)
A dessert that's already tough to beat is made all the better when chocolate, hazelnut and candied orange flavors are added into the mix. The Chocolate & Hazelnut Creme Brulée at Root in Philadelphia is an irresistible blend you can't wait to sink a spoon into.
8. LORD STANLEY – Eclairs (San Francisco)
Give into the craving at Lord Stanley in San Francisco with colorful Eclairs, cream-filled and iced to perfection. This after-dinner pastry is too good to resist, as are the other sweets on its frequently spiced up menu.
9. THE BOARDING HOUSE – Chocolate Bar (Chicago)
Chocoholics rejoice! Tap into your inner Count Chocula with this flourless chocolate cake, chocolate crunch and chocolate ice cream from The Boarding House in Chicago.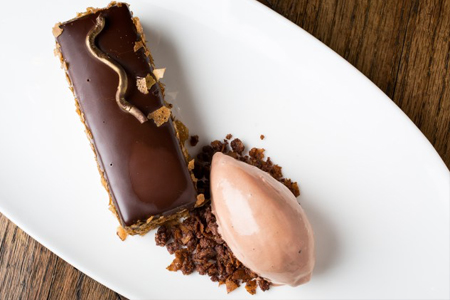 10. CROSSROADS KITCHEN – Cobbler (Los Angeles)
A crumbly creation you can't help but crave — the cobbler at Crossroads Kitchen will be a warm gateway dessert into Tal Ronnen's many delicious treats, like the peach upside down cake, hot fudge sundae or coconut milk tapioca.
11. AMPERSAND WINE BAR – S'mores (Chicago)
A swirling work of art as fun to look at as it is to eat, the S'mores For Two at Ampersand Wine Bar in Chicago puts a creative spin on the classic campfire dessert with rich chunks of chocolate colliding with mouthwatering burnt marshmallow bites.
12. THE METROGRAPH COMMISSARY – Banana Split (New York)
A split you won't want to share — The Metrograph Commissary in NYC makes a mean banana split. A sliced banana sandwiches creamy scoops of ice cream with dulce de leche, walnuts and fluffy whipped cream for a classic dessert that will keep you coming back.
13. KUSAKABE – Yuzu and Shiso-Leaf Sorbet (San Francisco)
The most mysterious looking of the bunch, this refreshing meal-ender is served with crisp, witch-finger-looking maccha crackers at Kusakabe in San Francisco.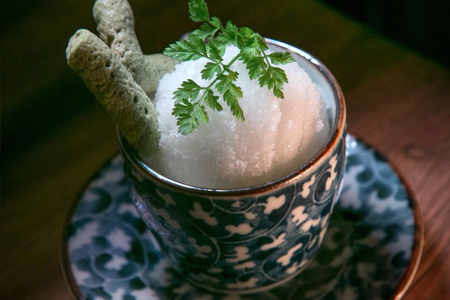 14. OLEANA – Turkish-Style Profiteroles (Boston)
Oleana in Boston delivers next-level cream puffs like you've never seen them before — with brown butter crème, sesame caramel, cashew and Halva.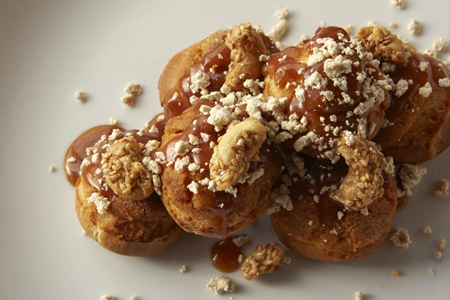 15. OX & SON – Lemon, Strawberry, Malt (Los Angeles)
Ox & Son in LA serves up a fruity milk-soaked yellow cake with lemon curd, strawberries and malt in fun jack-o-lantern-like vessel that'll leave you smiling from ear to ear.