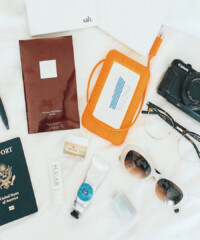 Eva Gutowski is living proof that your roots don't necessarily define where you'll end up. Her humble beginnings might have been amplified by the fact that the YouTube sensation grew up in Orange County, but they most certainly propelled her to carve out the creative lifestyle that she leads today. At 22-years-old the starlet has already experienced a handful of breakout moments and her hat trick – an uninhibited desire to fulfill all of her interests – has her at the forefront of the industry's ranks with the recent release of her first book, "My Life As Eva: The Struggle Is Real."
At this very moment Gutowski's YouTube page "MyLifeAsEva" has 7.5 million subscribers that tune in to a steady stream of themed videos created and produced by Gutowski. Compare that with 5 million on Instagram and an additional 2 million on Twitter, and you're looking at one of the most successful acts to rise from the YouTube platform. So what exactly does Gutowski attribute this to? Simple or not: the challenge she imposes on herself to exceed her own limits. 
"I've reached a point in my life where I've realized no one is going to hand you anything except for yourself," Gutowski affirmatively shared. "You need to work hard for what you want and beat your limitations – throw them to the curb – because limiting yourself isn't going to get you anywhere. I kind of attacked my dreams and goals." When it comes to pushing the limits, this also applies to the scope of her many talents.
The "MyLifeAsEva" YouTube channel is known for its comedic approach to things like how to survive high school and achieving a "lit" bedtime beauty routine, but switch to a different platform and you'll quickly discover Gutowski's alternate aesthetics. Gutowski's Instagram effectively takes on the appeal of a fashion blog and her website takes on the role of picturesque travel blog, detailing trips to destinations like Santorini and Mykonos. Each medium shares Gutowski's familiar personality, yet each fulfills a different dream she's set out to accomplish.
Take travel blogging for instance, which Gutowski noted as being amongst the most taxing of her titles. One day on the road requires at least 10 outfit changes and a trained photographic eye. So it's a good thing that Gutowski is her own stylist and knows her way around a camera, especially if she's not traveling with her best girlfriend or her beau Adam Bartoshesky who can lend a hand or two. This, Gutowski says, is just one of many ways she'll continue to test her own limits. 
"I have a lot of different layers to me and I don't want to limit myself and what I get to put out to my viewers," she explained. "Not many people have skills in a bunch of different things or they just haven't discovered it yet, so when people see my YouTube videos but then see my Instagram and they see these crazy, insane photos they're like, there's no way that this girl can make YouTube videos, take good photos, sing and play the guitar." Although Gutowski doesn't play guitar – at least not yet, anyways – there's no reason why she can't do it all. That in itself is just another part of 'being Eva.'