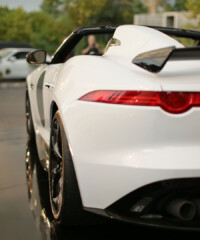 Tastemakers and car aficionados alike headed to the Hamptons this past weekend to test drive Jaguar's F-Type convertible, and the 2015 F-Type Coupe. Following the road rally, a British-themed bash took place poolside in Bridgehampton at Topping Rose House. The colonial style hotel was adorned with a classic telephone booth, Royal Guard and white birdcage chairs accented with the British flag. Guests, who also donned English-inspired garb, enjoyed cocktails and hors d'oeuvres as the sun began to set.
Among the evening's highlights was the 575hp F-Type Project 7 on display. Project 7's design pays homage to Le Mans-winning Jaguar D-Type racing cars, which celebrates its 60th anniversary this year. 
The influential crowd included Kelly Rutherford, Whitney Fairchild, Julie Henderson, Tamsin Lonsdale, Kipton Cronkite, Jeff Curry (Jaguar Brand Vice President) and Rachel Heller. "There were many prospects who fell in love with the F-Type," says A.J. Alfino, the General Sales Manager at Jaguar Southhampton. Consider us unsurprised.
Click through the gallery of pictures from the celebrations.