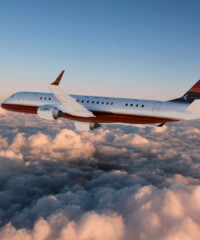 If you were impressed by Etihad's new fleet of A380 double-decker planes, be prepared to yet again be blown away by luxury flight innovation. Skyacht One has infused an Embrarer Lineage 1000E private jet with luxe yacht-style amenities—think: mahogany paneling, custom hardware in a nautical theme and brass inlaid window bezels—creating what designer and former Disney Imagineer Eddie Sotto has dubbed "a yacht that can fly." 
Additional perks include 10,000 cubic-feet of cabin space, including lavish sofa seating, a cocktail bar, a four-seat conference room and a private master suite lined in padded suede. Sotto's creative design firm SottoStudios is the brains behind the gorgeous plane, which boasts a range of 4,500 nautical miles. While Skyacht One is just a concept right now, the vessel can be one lucky buyer's personal reality. But, it'll set you back $83 million.
Click through the attached gallery to see photos of the jet and check out the video below for a virtual tour.