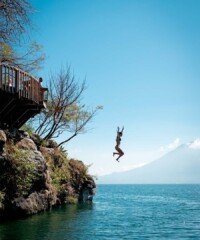 TRAVEL COMPANIES
AncientExpress
This company makes traveling to challenging spots like Mirador, the ancient Mayan ruin located smack in the middle of the jungle, feel like a breeze. Treks through the excavated sites are led by Dr. Richard Hansen, the American archaeologist and Mayan expert who has spent the last thirty years excavating the ruins. AncientExpress also facilitates travel on Lake Atitlan, including house rentals and introductions to the local community, as well as in Antigua and Guatemala City
Inguat
Guatemala tourism commission helps to organize cultural travel through Guatemala.
LAKE ATITLAN
STAY
Private Houses
Villa Eggedal
Over the past few decades, Norwegian ex-pat Lord Eric Bergan has created a picturesque Shangri-La up the side of a mountain in Santa Cruz. Select houses are for rent.
Casa Prana
This is by far the most luxurious accommodation in town. A private home with several bedrooms and yoga center, the retreat is equipped with a full-time chef, who can prepare spa cuisine straight from the garden, and a team of housekeepers and gardeners. 
Boutique Hotels
Isla Verde hotel
An adorable jumble of whitewashed plaster buildings with colorful hammocks and built-in banquettes reminiscent of something you might find in Greece. With plenty of open space for meditation and yoga, Isla verde is a hippy paradise with loads of fresh food served around the clock.
La Iguana Perdida lodge
Owners Deedle and David Radcliffe started the Iguana as an off-the-grid retreat on the lake over a decade ago. Even though the Iguana now has wifi, connection to the modern world won't interfere with the bliss of relaxing in one of their simple villas (different price points are available, from backpacker to luxury) and meditating on the majestic volcanoes across the lake. 
EAT
Casa Palopo Hotel, Santa Catarina
This is a luxe restaurant perched on the edge of a cliff with a breathtaking view of the lake. Come here when you want the full white tablecloth treatment.
El Tul y Sol, San Marcos
Provencal-style fish dishes served on a glorious deck overlooking an azure blue lagoon.
La Casa del Mundo, Jaibalito
This place is perfect for a delicious post-yoga breakfast .
WELLNESS
Villa Sumaya
This is a retreat center with shaman-led ceremonies, yoga, tantric workshops and more.
The Yoga Forest 
Located in San Marcos, this escape offers yoga teacher training and lunar immersion classes.
Mystical Yoga Farm
For a very "granola" experience, get together to meditate with fellow yoga instructors and gurus in a harmonious atmosphere.
ANTIGUA
STAY
Panza Verde
This is a completely refurbished Spanish Colonial gem with ravishing interior garden and high-end restaurant.
SHOP
502 Home
Pick up gorgeous handmade ceramics designed by Matthew Esposito and made by indigenous artisan families who have been crafting ceramics for over two generations.