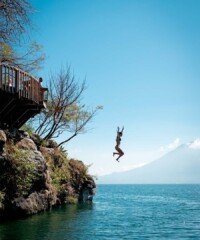 American archaeologist Dr. Richard Hansen meets us at the private airport in Guatemala City loaded down with food and supplies and looking like a 21st-century Indiana Jones. With just two side compartments on our small chopper, it appears we'll be taking only the essentials into the rainforest. That is, of course, not counting the cooler of stone crabs, prosciutto and mushroom risotto our friend Berthil has arrived with. Hansen looks at Berthil like he is insane, but the cooler sneaks on. And with that we're off, heading north toward the border of Mexico in search of an ancient Mayan city hidden under the jungle, led by the man who has spent much of his career uncovering it. 
The Mirador basin was the seat of an advanced Mayan superpower in the Pre-Classic Age. In other words, it was the New York City of 1000 b.c., a massive region that included about 80 cities, 51 of which Hansen has excavated. Since there are no roads in, it's a challenge to access, involving either a three-day hike through the jungle with a guide and pack mules or a chartered helicopter, which is why the ruins only see about 2,500 intrepid visitors per year, compared to the hundreds of thousands at Tikal and Chichén Itzá.
A symphony of birdsongs wakes us up at 6 a.m. and after breakfast tortillas, we motor to Hansen's latest dig site in a Kawasaki four-wheeler that could drive straight up a tree. Besides the birds, the only other sound at this hour is the roar of howler monkeys. The excavated site is a breathtaking multi-level building with double reflecting pools and waterfalls. Hansen pulls back a protective tarp revealing an intricately carved bas-relief depiction of the Mayan "story of life" that covers the back wall of the water feature. Turns out, we are likely standing on the same limestone floor where Mayan princes and princesses once stood; Hansen believes this structure, one of many he is working on at the moment, might be a king's burial site that will make Tutankhamun look like a pauper.
Later that afternoon, we find ourselves 230 feet up perched atop La Danta, the most volumetric pyramid at El Mirador and, in fact, the world. With nothing but the sound of the wind blowing, and the sight of a vast infrastructure the size of Los Angeles spreading toward the horizon, we can't help but feel a sort of spiritual connection to a grand society that has come and gone. Following a white-knuckle descent, we bid the protector of the pyramids good-bye and head for a different kind of bliss on Lake Atitlán. 
Berthil Espegren, a Norwegian model who has seen some of the most astonishing houses and gardens in the world, first launched the idea of a trip to Guatemala, insisting my husband, Paul, and I would connect to the country's staggering beauty and hippie-mystical vibe. Berthil first visited Lake Atitlán 20 years ago, and instead of bringing back Guatemalan textiles, he came home with a piece of lakefront property. (It's not an uncommon story.)
The endless chain of rugged green mountains we see on the half-hour helicopter ride from Guatemala City is pretty enough, but a sudden heart-palpitating cliff-drop followed by a sharp descent through clouds as the lake comes into view is thrilling. On the ground, we are greeted by the bikini-clad proprietress of Casa Prana, our home for the next few days, and a Norwegian expat called Lord Eric who has a jumble of stylish compounds high on the mountainside nearby. Jungle life has rendered us a grim-looking lot, so the rest of the afternoon is spent taking hot showers, drinking fresh watermelon juice and getting hour-long, $40 dollar massages in Casa Prana's gorgeous yoga room.
Lake Atitlán, in the highlands of central Guatemala, was a New Age healing destination long before mindfulness became an annoying buzzword of the 2010s. Three hours west of Guatemala City by car, the north shore still attracts a laid-back crowd of tourists looking to get off the power grid and vacation inexpensively—some compare it to Tulum 30 years ago. On the southern side, weekenders from Guatemala City party and practice yoga in their mansions. High up in the hills, Mayan communities continue to take part in centuries-old shaman-led rituals.
Part of the allure of the lake is the near-constant 70-degree weather and the startling scenery: turquoise water surrounded by three looming volcanoes and a string of steep mountains on whose sides coffee and corn are tended. In the oft-quoted words of Aldous Huxley, Lake Atitlán is "really too much of a good thing." That said, the attraction transcends more than just the pretty view.
By nightfall, Casa Prana is humming with house guests, including a young entrepreneur, Diego Arzú, whose father is Guatemala's former president and the current mayor of Guatemala City, along with his partner, Matthew Esposito, an American designer with a ceramics factory on the other side of the lake. A 60-something healer who has just done some kind of work staring into Berthil's face floats over to the pergola to join us for cocktails. For the next hour she has us on edge with an amazing tale about circumnavigating the globe on a sailboat with only one other person, who tragically fell overboard. Though she barely knew anything about sailing, she willed herself to find him, and against odds she did—and alive at that. (So many questions, starting with: Why didn't she take some sailing lessons first?)
Despite the luxury of Casa Prana, with its full-time housekeepers whipping smoothies and soup from bananas and carrots grown on the property, the north shore of the lake is low-key, and as such has been a magnet for expat gringo artists, writers and hippies for decades. Some say the lake inspired Antoine de Saint-Exupéry's The Little Prince, and locals will point to a certain hat-shaped mountain that looks like the drawing of the snake that swallowed an elephant as evidence that Saint-Exupéry was, in fact, here. Other famous landowners include disciples of the Indian mystic Osho, who arrived in the 1970s, and author Joyce Maynard, Salinger's famous ex, who still throws writer retreats at her lakefront house. 
It's easy to get seduced by real estate here, partially because the handsome French agent, Armand Boissy, tours properties by boat, which is, as you might imagine, way better than driving around in a car. Armand explains the demographics of the 13 villages surrounding the lake, each with its own distinct personality. Quaint San Marcos offers gorgeous vegetable-dyed hand-woven textiles, while San Pedro, a backpacker's paradise, is a festive lakefront scene know for its potent marijuana. In a chic private home high up in San Pedro's hills, we are introduced to contemporary-art star Antonio Pichillá, who has chosen to live and work here, in his hometown, rather than in Guatemala City near the galleries, "simply because of the inspiring beauty and spirituality." Indeed, Berthil and Diego are so energized from all the fresh air and mountain hikes that over breakfast one morning they hatch a plan to launch a bespoke travel agency with tours through Guatemala. 
On our last night, we lie squished together at the end of Casa Prana's long dock, seven faces pointing heavenward, debating which constellations are twinkling overhead. Not one of us has a real handle on astronomy except for a quiet code-writing banker from Manhattan via Croatia named Dusan. I insist one is the Big Dipper, someone else thinks Taurus. Like every debate in the 21st century, it's settled by asking a smartphone. As Dusan has said (more than once), we are staring at Cassiopeia. Despite being hundreds of miles from a major city, on the edge of a vast lake surrounded by volcanoes and mountains, we still have WiFi. Luckily, even a strong cell signal isn't enough to get in the way of primordial Mayan bliss.