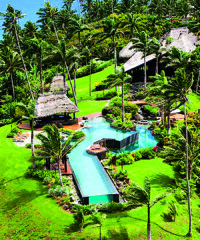 It was 45 minutes past our appointment time, and the phone still hadn't rung. I checked my inbox and found an urgent email asking to reschedule my call with Andrew Griffiths, owner of the new Six Senses Fiji. Tropical Cyclone Keni, a category 3 storm with projected 115 mile-per-hour winds, was due to make landfall on Fiji in less than 24 hours.
As I sat safely at home some 8,000 miles away, I frantically checked the news, worried that history was about to repeat itself. Just two years ago, this South Pacific island archipelago was devastated by Tropical Cyclone Winston, the most intense storm to ever hit the Southern Hemisphere, causing 44 deaths and nearly $1 billion in damage and losses.
Thankfully, Cyclone Keni changed direction, heading out to sea rather than barreling toward Viti Levu, the largest and most populous of Fiji's 333 islands, where recovery from Winston has been hard-fought.
As unpredictable natural disasters become more commonplace (consider the U.S. and Caribbean following last year's catastrophic Hurricanes Irma and Maria), it would seem that the fate of such a remote paradise hangs in the balance. And yet, Fiji has fearlessly rebounded—nowhere more so than the tourism industry, which accounts for 40 percent of the country's GDP. In the last two years, there have been a bevy of new resort developments and increased flight service (including a direct route on Fijian Airways from San Francisco to Nadi International Airport).
And travelers have taken note: Last year, Fiji saw more than double the annual visitors of similarly castaway-chic destinations, like French Polynesia and the Seychelles, plus a 17 percent increase in U.S. tourists. In an area roughly the size of Washington State, there are more than 250 resorts, ranging from backpackers' outposts to six-star stays like Laucala, a private-island resort owned by Red Bull billionaire Dietrich Mateschitz, that's hosted everyone from Oprah to Ludacris.
The appeal of Fiji isn't the hotels, however; it's the people. "Fijians are the most loving, genuine beings that you'll ever encounter," says Annette Sordoni, luxury travel consultant at Protravel International. "From the first 'bula,' their version of 'aloha' or 'ciao,' to the time you board the flight home, you're greeted with smiles and sincere kindness."
While many fly-and-flop destinations aim to deliver such an over-the-top-experience that it becomes insular (butler service so you don't interact with hotel staff, tricked-out accommodations designed to make you never leave the room), Fiji's top stays encourage the opposite of just lounging beachside all day. At Nanuku Auberge Resort, for example, one of the hallmark experiences is the "Food Safari," in which guests shop at the local market, go crabbing in the Lobau River, and participate in a traditional Kava Ceremony, where a welcome offering of kava root is made to the Lobau village chief (who then turns it into a mouth-numbing drink shared by all). As Nanuku General Manager Sascha Hemmann explains, "We fully embrace the local culture and even pair guests with a Cultural Ambassador from the Nanuku Tribe who can teach them about Fijian customs."
An immersive experience is also available for visitors entranced by the local environment. At Kokomo Private Island—on the southern fringes of the archipelago, in the Kadavu island group—guests have access to 40-plus dive sites on the Great Astrolabe Reef. This scuba-diving pinnacle is filled with kaleidoscopic soft corals, underwater caverns and all kinds of aquatic life—from manta rays to green turtles and spinner dolphins. Though the resort has every imaginable luxury (21 villas set on pristine white sand, a Turkish style hammam), Kokomo's sustainable practices sets it apart. Every structure is made from local timber, stone, and crafts, and 70 percent of produce comes from the nearly six-acre garden, making meals truly "farm-to-table."
Mindfulness is also at the core of the just-debuted Six Senses Fiji, an eco-chic resort on Malolo Island that is entirely solar-powered by Tesla batteries and prohibits the use of plastics. This sustainable ethos has become central to the guest experience: You can tour the organic gardens, participate in beach clean-up and even assist with coral planting just off the shore (a marine biologist was enlisted to introduce coral gardens years before the resort even opened). As Griffiths put it when we spoke on the phone a few days later, "Seventy percent of the world's oxygen comes from the ocean, so if we can do a little bit in our own backyard to promote the growth of coral and marine life, we're going to do it. That's what being a global citizen means."
If you were to imagine a course for Fiji's recovery from Winston, sustainable tourism wouldn't be an obvious one, but it's become a fruitful one. This remote paradise is inextricably linked to foreign visitors, but its emphasis on the local culture and the environment are essential. Fiji has to be more than just a box to check off the bucket list; it has to be a place of deep, personal connection to the people and the land—which is exactly what you feel upon hearing that final 'bula.'