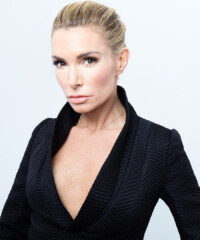 "Last night I was at dinner with a friend, and just being there with him was as if none of this existed," Eden Sassoon said, gesturing excitedly to the space around her. "It took me a moment to go, 'oh right, that [reality show] is part of my life." Since joining the cast of Bravo's Real Housewives of Beverly Hills for the show's seventh season, the 43-year-old heiress to the Sassoon beauty empire has caused waves amongst her castmates. Although when you get down to it, the show – known for its dramatic twists and turns – pales in comparison to the real thing.
"My life hasn't changed," she explained. "If anything it's more of what I normally do. I'm used to the beauty business, my kids are still in school, and I've gone through these situations before." Sassoon counts this year her fourth year of being sober, and the feat of this milestone isn't lost on the people that make up her new circle of "friends." Sassoon's plotline on the show focuses on her sobriety and the advice she offers to those dealing with similar issues, two things she's proudly worn on her sleeve long before she stepped into the limelight. 
Although if she had to pick one thing, it's fame – even the kind that's garnered from a reality television show – that takes some getting used to. "You have to get used to people coming at you, constantly," she explained. "There's one hater for every time I get a 'you're so inspirational; your story reminds me of myself or my mom.'" The mother of two children knew that signing on to the show would demand even deeper aspects of her personal life, like her recently mended relationship with her mother. But considering the fact that she's normally an open book – one that's wide open and full of spunk, light and love – that, again, wasn't too far from her real life at all. "There's just more people that get to know more of you," she explained. "My biggest thing in life is my heart, so I give so much of it."
Like most Housewives eventually come to find out, a wider platform is good for business, too. Aside from continuing in her father Vidal Sassoon's footsteps by opening her namesake beauty salon in West Hollywood, Sassoon runs nonprofit Beauty Gives Back in an effort to raise awareness about the global water crisis, and also created two Pilates studios. The studios are set to start their own instructor training programs, and viewers have already begun making appointments at the salon in hopes of running into Sassoon.
At the end of the day, Eden Sassoon hopes to spread her positive energy, which is a hallmark takeaway from even spending a short amount of time with her. If people watching are inspired to live their life to the fullest, to stop "sleepwalking" as she calls it, then she's done her job. And by the end of the season, if all the cameras manage to capture are her stares, or as she calls them, her "thinking faces," that's fine, too. Because, as she said, "I think. I don't just sit there."