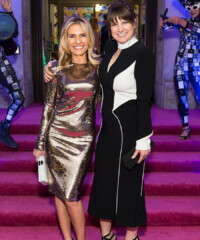 San Francisco's Asian Art Museum held its annual Gala on March 2nd, raising $1.6 million for the institution and its programs. A sizable portion came from the deep pockets of Silicon Valley's tech leaders –which seems appropriate – considering this year's theme was "Art + Technology."
For Co-Chairs Cori Bates, a museum trustee, and her husband, GoPro President Tony Bates choosing the theme was a no-brainer. "We live in the epicenter of the technology universe here in San Francisco and Silicon Valley," said Tony. "When we connect technology and art we can explore the world in new and exciting ways."
Officially, the biggest sponsor of the evening was CISCO, with Adobe, eBay and Electronic Arts all giving generously. Though, it's really the private donors who are stewarding the technology community's philanthropic endeavors, including YouTube co-founder Steve Chen and Jamie Chen, Yahoo! co-founder Jerry Yang and Akiko Yamazaki, and Facebook hotshot Dan Rose and Allison Rose.
"This dynamic marriage between technology and art also crates endless questions for us to explore and allows us to tell stories in innovative ways," explained Cori Bates. "As we look to the future, the union of Art and Technology will only get broader," she continued. "We will see exciting fields like virtual and hyper-augmented reality, Nano-art, Robotic art, Bio-art, and the use of smart materials in art, to name a few."
The Gala Committee included Christine Lamond, Gorretti Lui, Ranjini Malavalli, Eliza Cash and Tim Kahn, as well as Akiko Yamazaki, Allison Rose, Jamie Chen and Jill Woodman.
New York-based fashion designer Rubin Singer flew in for the celebration, and to dress an array of his Bay Area beauties – Sobia Shaikh and Jennifer Walske, as well as Bates, Rose and Yamazaki.  Other guests included Denise Hale, Mayor Ed Lee, Mark Leno, Yuri and Carl Pascarella, Sako Fisher and Stephanie Marver.