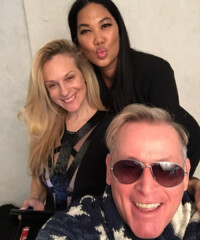 Success runs in the family for Consuelo Vanderbilt Costin. While she may be a seventh-generation descendant of railroad tycoon Cornelius Vanderbilt, Costin has been a singer in her own right for over a decade, sharing stages with Vanessa Carlton, Mya, and more, and releasing a string of dancey singles including 2014's Billboard-charting hit "Body Needs." After touring the world and working with internationally acclaimed directors, musicians, and writers, she is ready to take her winning streak to the business world.
Costin's latest venture is a LinkedIn-style social media platform for professional creatives called SohoMuse. "SohoMuse is where creative working professionals in all verticals can connect," says Costin, who cites dancers, musicians, writers, and actors as potential users of the platform. "With complete freedom and control over their content and profiles, users will be able to control the public and private ways in which they are perceived by other professionals."
The inspiration, says Costin, arose from her own experience in the music industry. "As an artist, there have always been a lot of restrictions within the business. I remember being told I should have pink hair or blue or or abbreviate my name; I was unable to be the best of myself," she says.
To start off, the website has enlisted with 100 influencers from various industries to set the tone of the platform and to develop the by-invitation-only membership, ensuring a high-quality creative ecosystem. Ultimately, Costin says, SohoMuse wants to streamline the creative process and give artists access to fellow talent from across the globe.
With a multifaceted career spanning across tech and music, this New York City-based scion is busier than your average heiress. Click through the gallery to see how Costin spends a busy day in her hometown.
Main Image Credit: Vital Agibalow