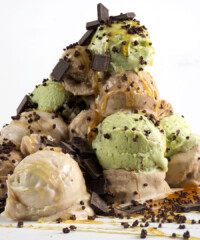 Vegan restaurants are now a dime a dozen, especially in major cities, but tepid tempeh, limp tofu and powdered faux cheese are very clear deterrents for even the most adventurous diners. Luckily, the cuisine concocted by chef Chloe Coscarelli of the West Village restaurant by CHLOE. is changing customers' minds about vegan fare one "burger" at a time.
"Going into this project, my target customer was everyone," says Coscarelli. "I really wanted to appeal to vegans, bacon-loving carnivores, young kids with dairy allergies, older people who wanted to eat well, families."
And that's just what the chef did, whipping up meals that felt hearty and looked downright gluttonous but were, of course, vegan. Her secret sauce, so-to-speak, is to keep things simple. 
"It can be healthy or meat-free or whatnot, but if it doesn't taste good you're not changing anyone's mind and you're not expanding anyone's horizons," says Coscarelli. "A lot of the flavors at by CHLOE. are based on flavors that you would find in other familiar foods—we do a mac and cheese with crispy shiitake bacon, we do lots of burgers that are homemade, handcrafted veggie patties. We try to put all those good sauces and flavors and juices of what people would consider 'normal' food."
Yes, there is even a pumpkin spice latte for fall.
Click through the gallery to see some of the most incredible creations to come out of the by CHLOE. kitchen.