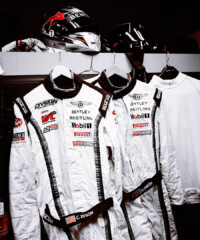 For over six decades the Bentley Continental has occupied the sweet spot between performance and stately, grand touring luxury. We had the opportunity to test drive both the most recent two-door, four-seater Continentals in Napa Valley—the GT Speed with a 6.0 litre twin turbocharged W12 engine and the GT V8 S with a 4.0 litre V8 engine. Both models have a kerb weight in the neighborhood of 5000lbs, which is considerably heavier than many comparable grand tourers. However, the extra heft doesn't detract from its performance. Rather, the Continental has a fluidity and smoothness that is the cumulative effect of the heavier chassis and balanced design. Out on the winding roads through California's wine country, the Continental was a lesson in momentum and torque, gracefully flowing from one turn into the next.
We rounded out our weekend in Napa shadowing Bentley GT racing driver Guy Smith as he competed in the Pirelli World Challenge series at Sonoma Raceway. In observing Smith we saw another side of the Continental, a raucous beast well capable of holding its own up against the leading sports car manufacturers of the world. 
Click through the gallery to see Smith in action.
Main image courtesy of Bentley