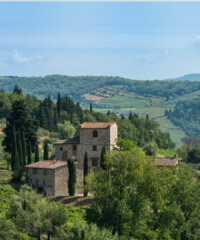 The home of one of the Renaissance era's most iconic artists could soon be yours. Michelangelo's historic Tuscan villa feels like a trip back in time. The eight-bedroom, 13,000-square-foot property—known as La Torre de Michelangelo—comes equipped with classic Renaissance-age fixtures and working wood-burning fireplaces. Plus, it features a sprawling garden with 200 olive trees, which the current owners use to bottle homemade olive oil.
Michelangelo originally purchased the home for 2,281 florins (around $320,000 today) three years after the Pope appointed him as architect for St. Peter's Basilica. Now, the historic home can be yours for just $8 million.
However, this villa might not be for everyone. The Italian Ministry declared the property a historic landmark, so making any changes to the estate would be nearly impossible. On the bright side, the realtors at Handsome Properties International say municipality might be a little more lenient when it comes to future owners constructing an outdoor pool.
Check out some images of Michelangelo's beautiful Tuscan retreat here.