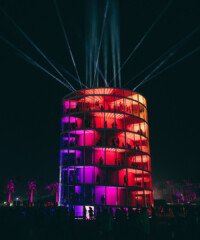 It's no easy task for a visual artist to make a splash at one of the biggest musical extravaganzas of the year. But Coachella, with its desert sprawl and otherworldly environs, has always doubled as an incubator-like exhibition space site-specific, large-scale art. In the past, monumental works like Gustavo Prado's Lamp Beside the Golden Door (2017) and Phillip K Smith III's neon mirrors in 2014 and silver-plated "portals" in 2016 have served not only as nonpareil selfie backdrops, but also as impressive feats of sculpture and engineering.
This year, the festival has once again made space for the visual artists. This year's lineup includes artists specializing in monumental sculpture as well as new media like VR. And while they may have shared billing with Beyoncé, these are the artworks that pulled the most focus at Coachella 2018.
Adam Ferriss 
You won't find Adam Ferriss's work out on the polo grounds. Instead, his two latest augmented reality-based works can be accessed on the Coachella app. The first, "Meta," perhaps a futuristic riff on the time-honored tradition of taking Polaroids at Coachella, allows you to project virtual, Polaroid-like snapshots from your camera roll into your frame. The second, "Ditto," allows you to draw a 3D, ribbon-like filter onto the Indio landscape. The software follows another recent high-profile collaboration between Ferriss and the music industry: Apple Music's trippy Spike Jonze-directed campaign starring F.K.A. Twigs.
Eduardo Tresoldi
Milanese artist Eduardo Tresoldi will present the largest site-specific installation in the festival's history. Inspired by neoclassical and baroque architecture, Tresoldi creates monumental, cathedral-like mesh towers. For his Coachella 2018 installation, entitled Etherea, consists of three transparent towers ranging from 36 to 72 feet in height.
"Etherea is a​ ​shrinking and growing​ ​portal for the contemplation of the sky,​ ​an ephemeral public artwork within the huge temporary city of Coachella imbued with the boundless California landscapes and specifically conceived for a continuous interaction with the audience," Tresoldi tells us.
R&R Studios
While the festival's stages and VIP areas packed plenty of star-power, this massive, 12-point supernova by Argentinian scultpors Roberto Behar and Rosario Marquardt of R&R Studios was an undisputed showstopper. Providing shade and an irresistible Instagram backdrop by day, the sculpture's 40-foot spears lit up and changed color at night—undoubtedly becoming a north star for lost festivalgoers in need of a designated meet-up spot.
NEWSUBSTANCE
A literal and monumental representation of the color wheel, this fully immersive tower by U.K.-based design lab NEWSUBSTANCE offered the highest elevation on the Coachella campus. After climbing the structure's spiral staircase, bathed in multihued light by a cylindrical grid of 31 panels, festivalgoers were greeted with 360-degree views of the fairgrounds and beyond.
Daniel Arsham at Platinum House
Large-scale art installations weren't limited to the festival itself. The off-site Platinum House at the Parker Palm Springs hosted by American Express, was an art installation in itself dreamed up by Snarkitecture's Daniel Arsham. Evoking a synthetic, all-white version of the rocky desert skyline, the mimetic design offered a surreal backdrop to the activation's lively programming, from performances by Julia Michaels to SoulCycle classes by Stacey Griffiths.
Main image: Spectra by NEWSUBSTANCE (photo credit: courtesy of Goldenvoice)