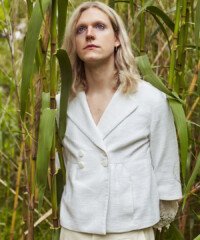 The foursome from Reading, England is made up of vocalist/guitarist Oscar Pollock, drummer Haydn Evans, bassist Dom Cordell, and guitarist Ally Baty. The indie-rock band has been compared to the likes of Bruce Springsteen, Arcade Fire and U2. The British newcomers have played the acclaimed Reading Festival in the United Kingdom, supported Two Door Cinema Club on tour and most recently attended SXSW in Austin, Texas. 
With the release of their debut album Youth Is Only Ever Fun In Retrospect, Sundara Karma are set to take the music world by storm. The album touches on youth, sexuality, love and literature.
The androgynous lead singer Oscar Pollock told the Independent, "It's no longer a shocking thing to see a boy wearing nail varnish, or to see a man getting up on stage wearing a dress, or a girl with a shaved head," Pollock says. "I think the threshold of acceptance has risen so high since the seventies, and that's some sort of progress." 
We caught up with this progressive musician to discuss the band's time at SXSW, their debut album and the first boy band he loved.
How was being at SXSW?
It was our first time in Austin, Texas. It was beautiful and lovely. It was such a good time to perform. You hear people who go on about good things and you underestimate them, but this was just absolutely unreal. We didn't have a lot of time to chill. We saw a few cool bands, a few British ones.
What was it like recording your debut album, Youth Is Only Ever Fun In Retrospect?
Unlike anything else we've ever done. We recorded part of it in Berlin, Germany, which was pretty cool, and then we did some of it in London. We recorded in between us touring and live shows so it was a lot of work, but great fun.
What does the title of the album mean to you?
It summed everything up for the way we were feeling while we were writing and recording. It represents the whole feel of the album. 
What does "Sundara Karma" mean?
It means "beautiful karma" in Sanskrit. It's something we really believe in. We very much have a nice that represents that.
What inspires your fashion choices?
Not really. I go to a lot of charity shops at home, I think they're called thrift shops here in America. I get my inspiration from just life. 
What is a band or an artist that you listen to that fans would be surprised to hear?
Plenty. There are quite a lot that might be surprising. When I was younger though, the first real band that I loved was Westlife. When I say I was young, I was like, four or five. I really loved them. I had a poster of Westlife in my room.