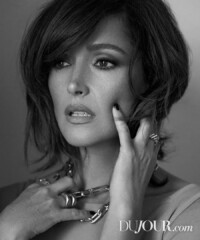 If you're an avid consumer of culture, you're likely used to seeing Rose Byrne everywhere.
There are her roles in some of the best (and most rewatched) comedies of the past decade, like Bridesmaids, Neighbors, Spy and, most recently, Spirited, opposite Ryan Reynolds and Will Ferrell.
There are the family films she's lent her voice to, from the hugely successful Peter Rabbit movies to this summer's Teenage Mutant Ninja Turtles: Mutant Mayhem, out in early August.
There are the charming, underrated indie movies in which she's made a particularly relatable impression, including The Meddler, opposite Susan Sarandon, and Juliet, Naked, with Ethan Hawke.
She's also starred in horror movies, including most of the Insidious franchise—the fifth installment, subtitled The Red Door, comes out in July—and on stage, including a revival of You Can't Take It With You with James Earl Jones on Broadway and a production of Medea, opposite her real-life partner, actor Bobby Cannavale, at BAM in 2020, just before the pandemic.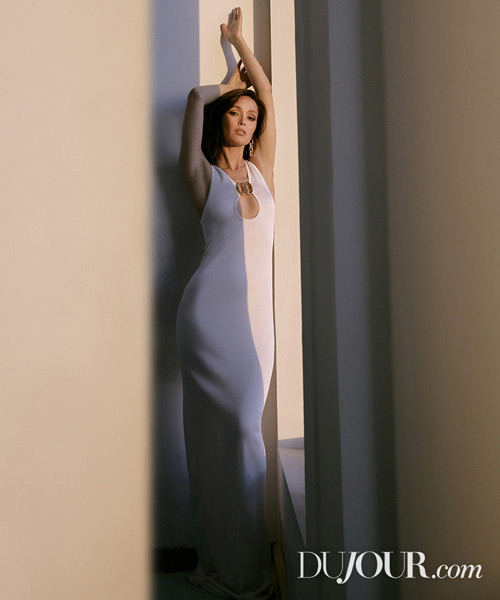 And that's not even taking into account her innumerable television roles, from her breakout on Damages, with Glenn Close, to her glowing personification of Gloria Steinem in FX's limited series Mrs. America.
In the last few years, perhaps unexpectedly, Byrne has become, basically, a poster girl for Apple TV+. In August, she returns with a third season of her series Physical, a dark comedy in which she plays Sheila Rubin, a San Diego housewife with an eating disorder who finds solace in the world of aerobics in the early 1980s.
But before it comes Platonic, which premiered on Apple in late May. This series feels like a more obvious choice for Byrne, given her comedy past; she stars as Sylvia, a lawyer-turned-mom married to Luke MacFarlane, who reconnects with a newly divorced old friend, played by Byrne's frequent collaborator Seth Rogen. Their relationship stays relatively, well, platonic, but, as happens in half-hour comedies, it ends up complicating the romantic elements in both of their lives.
Platonic was co-created and directed by Nicholas Stoller, who is a particularly important cog in the Rose Byrne metaverse. He directed her and Rogen in both Neighbors films, as well as in 2010's Get Him to the Greek. Byrne describes the latter movie as "my break in comedy."
"She's just so game," says Stoller of why he's found Byrne to be something of a comic muse. "She's probably the most game actor I've ever worked with. On Platonic, she's having a midlife nervous breakdown. In another actor's hands, it would have felt too heavy or too silly, but she's somehow able to find the perfect balance and make it completely human."
Perhaps a reason why Byrne is able to hop from project to project with such seeming ease is because she often collaborates with a team of regulars. "When you've worked with people before, you have a nice ability to fall back into rhythm within a few weeks," says Byrne one afternoon at a café near her Brooklyn home. "You're like, 'Oh, that's right. This is how this ecosystem works together.'"
Collaborating with Stoller and Rogen on this latest series was just "a nice space to be back in again."
"We're just happy to make people laugh," she adds. "There were many days I couldn't get through the scene [because I was] laughing [so hard]."
Byrne uses the same word to describe Rogen that Stoller used to describe her. "Seth is just always game," Byrne says. "He's always got a take on an idea that's unique, subversive and very interesting. I love that about his work and his comedy. He's a sweetheart. Just because you're a funny person doesn't mean you're a funny actor, and vice versa."
Byrne admits that the Neighbors films, in which she and Rogen play a married couple terrorized by their frat boy neighbor, played by Zac Efron, have a "raunchier" tone than Platonic. The new show, she explains, is a slightly more mature and "interesting examination of a male-female friendship. It's very rare to see that other than in Seinfeld, really."
She adds that the show "raises important questions about the friendships that existed in a time pre-marriage and career, and whether those friendships can still exist."
It shouldn't come as a surprise that Byrne's role on Physical is, well, a lot more physical. There's a lot of working out, both on-set and off. "But that's one of the perks of that job," she says. "To have this big training three times a week. I see why it's addictive, but it's a show about addiction. That kind of exercise is really hard, but it's the way [I get] into that character."
"She makes it all seem so easy, but she works so hard," says Zooey Deschanel, who appears opposite Byrne in the third season of Physical as a TV star who enters her aerobics sphere. "But she's an absolute joy to work with. She's extraordinarily easygoing and calm on set."
Interestingly enough, both Physical and Platonic tackle the subjects of marriage, motherhood and work-life balance. These are the big issues Byrne must clearly grapple with off-screen, too. The 43-year-old actress lives with Cannavale in Brooklyn with their two sons, Rocco, 7, and Rafa, 5.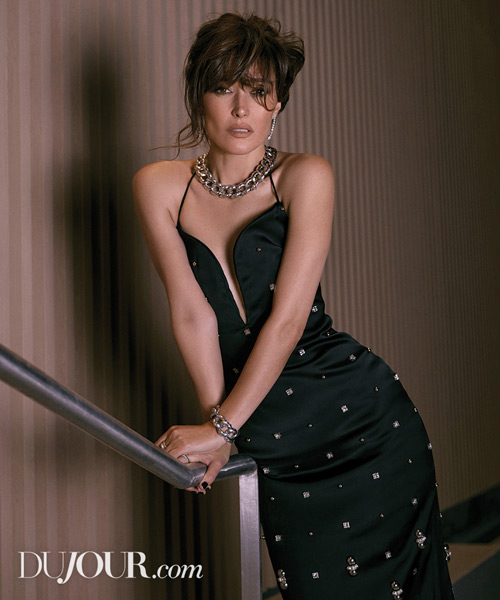 Clearly one solution for their partnership is working together, as in Medea. This fall, they'll appear opposite Robert De Niro in Ezra, a drama that casts them as a divorced couple who disagree about how to raise their autistic son.
In a slight departure from her typical family, horror and comedic fare, Inappropriate Behavior is a drama. But Byrne is not intimidated.
As Stoller says, "She can switch between comedy and drama at the drop of a hat. She's just a comedy and acting machine."
"Rose has this extraordinary quality of being simultaneously gentle and fierce," says Inappropriate Behavior director Tony Goldwyn, also an actor. "She always surprises with the subtlety and complexity of her choices."
As for the complexity of Byrne's off-screen choices, after spending much of the peak pandemic months in Australia while Cannavale filmed Nine Perfect Strangers, then going to Los Angeles for Physical and Platonic, she is quite happy to take a beat back in New York with her family.
"I really enjoy being back in the city," she says. "What I love about New York is that you walk around and just run into people all day. That doesn't really happen in California. We love the city and Bobby loves the city, so we're not going to go any time soon."
Being back in New York also means a more regular routine and day-to-day life. "I'm taking a break after having done jobs continuously," Byrne says. "I'm enjoying the role of being a mom, and I'm looking forward to having a nice summer."
As for how she handles that hugely important role of mom with two boys under 8, "I need structure," she says, "otherwise they'll just go stir crazy in the house. It's fun to get out, and there's always lots to do in the city with kids. Or we can just take them to the park."
At the same time, Byrne is eager for the next thing. Some might even say she was "game" for anything.
Most of all, "I'd love to get back on stage. I would love to revisit that again," Byrne says. "It's such a rigorous muscle to work, and it's also the most extraordinary experience to just exist in that moment. Every performance is different."
But she's also happy to continue to grow the Rose Byrne comedic metaverse. Now that she and Rogen have played spouses and best friends, what could be next? The possibilities are endless.
"I have such respect for comedy," Byrne says, beaming. "I think it's really hard. I think it's hard to make it look effortless. I certainly work at it."
---
Hair: Harry Josh at Statement Artists
Makeup: Hung Vanngo at The Wall Group
Manicure: Julie Kandalec
Producer: Mariana Suplicy
Styling Assistants: Francesca Lazaro, Kristen Setter, Dawson Hieger (Hair), Jayden Ho Pham (Makeup)
Shot on location at Olympia Dumbo in Brooklyn