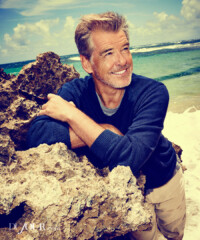 Throughout the years, Pierce Brosnan's blown up dozens of buildings, seduced countless femme fatales and killed off enough bad guys to have single-handedly kept the bullet industry in the black. But according to the 61-year-old actor, he's not nearly as deadly as we'd all like to believe.
"I just wish I was as cool as they are," Brosnan says, referring to the unflappable operatives he's so memorably played throughout the years. "If I got into a fight in a bar, I'd miss the dude by miles, I wouldn't know how to connect. It would be a comedy."
That may be the case, but when it comes to Brosnan's most recent on-screen antics, rest assured they're all action. The November Man, out August 27, finds Brosnan playing Peter Devereaux, a retired CIA agent who's called away from his quiet life by a lake to work one last operation. When it becomes apparent that things aren't what they seem and nobody's who he claims to be, Devereaux—whose habit of leaving nothing living in his path gives the film its name—ends up being the only guy with what it takes to save the day and, of course, get the girl.
It's not a new story, but it's one that resonates with Brosnan, who optioned author Bill Granger's book to make this film five years ago and served behind the camera as an executive producer. "I thought it had complexity and it was a good fit for me as a character to play, having been away from the spy game for some time," Brosnan says. "All the ingredients were well balanced—the writing, the characterization and the story." 
And, of course, it didn't hurt to have as the star the man who spent four films playing the most famous spy of them all: James Bond. "To me, Pierce's most successful roles have been in movies like The Matador, The Tailor of Panama and the Bond films," says director Roger Donaldson. "Those characters have all had sort of an edge to them."
Still, Brosnan says he wasn't necessarily looking to take another turn as an international man of mystery.
"It comes with a certain anxiety," he says. "But every job does, really. You want to get it right, you want it to be good. I believe strongly that we did get it right, and we did make it good. Now it's just out of my control."
And while Brosnan himself keeps very busy—he's made seven movies in the past two years—he does admit to identifying with Deveraux's retired spy getting back in the saddle. Or sports car as the case may be.
"Of course there are certain parallels, and there's a certain element of danger to it," he says. "This character is a fellow who has been away from the game for a long time, so we used all of the ingredients of my life. I nourished that with my own trepidation about going back to a genre which I'm well-known for."
Well-known might be an understatement. From 1995 through 2002, Brosnan played James Bond in four well-received films—GoldenEye, Tomorrow Never Dies, The World Is Not Enough and Die Another Day—and to this day embodies the legendary spy for millions of moviegoers. And while Brosnan has moved on, ceding the role to Daniel Craig and finding continued success in other films, some fans still have trouble letting go. 
'That role is a gift that keeps giving in many respects," Brosnan says. "I resist any negative feelings or tension as it's such an iconic role. I think there's space for people who enjoyed my work as Bond to enjoy this film and see the guy I once was play the guy I am now." 
It's no small feat, especially considering the circumstances under which the film was made. In 2013, during filming, Brosnan's daughter Charlotte lost her three-year battle with ovarian cancer. "In the middle of making this film, Pierce went through a personal tragedy and it was a very tough time," Donaldson says. "He was taking the movie very seriously but he was also deeply affected by what was going on in his life. I was very impressed by how he was able to give his family the time he needed to but to give the film time as well. I'm sure it was very challenging for him, but for me the quality of his work never wavered."
Delivering his best is something the actor says he's committed to for every project he takes on, whether it's another spy film or the upcoming series he's developing for Spike TV about the Crusades.
"The tick of the clock and time is constant, and I feel very good for these days and this time," he says. "There's work to be done, and it's about keeping up and trying to stay at the table as long as you can."
Check out our exclusive interview with Pierce Brosnan below.
Get the DuJour Newsletter
Sign up to receive exclusive access to celebrity, fashion, travel, design, culture and party news. 
MORE:
Sylvester Stallone: On the Sly
The Sorcerer's Stage with Daniel Radcliffe
Robert De Niro, Defined