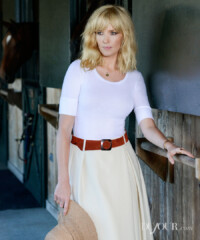 There is something about Kelly Reilly that is intensely feminine. Whether she's playing the calculating, cool Miss Bingley in Pride and Prejudice or the tender, hopeful addict opposite Denzel Washington in Flight, her movements and the smooth edges of her words capture a charm that allures even as it breaches the dark and often nebulous territory of being a woman. At 37, her beauty is like a smudged charcoal sketch, made lovelier for the forgiving softness of its lines.
Possibly, her glow emanates from happiness with the current moment in her career. "In this industry, at my age, that's it—you're over the hill," she says. "But it's so funny, because I couldn't be more excited about where I am in my life. I'm going to the next level of everything, and I'm eager for what that will bring, and for the next group of filmmakers I get to work with. And then I get to go home and have a very nice, normal life."
The British actress has had two decades in the business to find a sure-footed stride to call her own. At 16, she left home to waitress as she worked to land her first roles on television while her career gained momentum on the stage. At 26, she became the youngest ever Best Actress nominee for the Lawrence Olivier Theatre Award for her 2003 performance in After Miss Julie. British playwright and director Terry Johnson, who cast her in a number of his plays, has said that Kelly "is possibly the most natural, dyed-in-the-wool, deep-in-the-bone actress I've ever worked with. She is utterly instinctive. She seems to know absolutely what it is to be human."
Perhaps that is why she was drawn to Calvary, the moody drama that premiered this weekend to critical acclaim. Starring Brendan Gleeson, the story is that of an earnest, weathered priest in a small town on the west coast of Ireland who is told in a confession that he will be murdered in seven days time by the confessor—whose identity he knows but the viewers do not. The film spans the course of the revelatory week that follows as the priest interacts with his doubt-ridden parishioners who reject or seek out his help with varying degrees of cynicism.
Kelly stars as the priest's daughter Fiona, a "troubled" soul who has come to visit her father after a failed suicide attempt. Fiona is bright, contemplative, self-aware, and shares a sensibility of hopefulness with her father, but has suffered psychologically since her mother died and her father left her to join the church. Kelly says that she was immediately drawn to the role, and to the film as a whole, which boasts an electric ensemble cast including Chris O'Dowd, Dylan Moran and Aiden Gillen.
Calvary is a searching piece of work that plunges into the concept of what it is to be "good" and of the value of living a "good" life—murky waters in our post-postmodern, who-knows-anything time. But Kelly thinks it's the perfect time for a new perspective.
"The antihero has been around now for a while; I think we're wearing him out a little—he's getting a bit thin," she says. "Today there are a lot of ironic and sort of schmucky characters, and this film is in very sharp contrast to that. It's almost risky, a film about somebody who makes their life about being a good person. I love that it toys with the notions of integrity, goodness, compassion, hope, faith—and does not treat them as whimsical, airy-fairy, lightweight, romantic notions. There is a warrior's tradition behind them. These grotesque—well maybe not grotesque, but broken— characters keep knocking [the priest] down, wanting him to say that there's nothing worth fighting for in the human race, that it's all abuse and greed and darkness. But ultimately, he keeps turning to compassion."
And speaking of biblical gestures of compassion, Kelly shared one of her favorite memories on the set of Calvary, which perhaps summates the unsentimental heart of the film.
"One day on the beach after it rained, there was this huge, beautiful rainbow—insanely beautiful—going across the scene. Everybody had their cameras out, and I was certain that John McDonagh, the director, was going to get the camera out and put the rainbow in the film. But he turned around and was like, 'Well, now we've got to wait for the rainbow to go away.' It's so funny to me because that's how he is. He's very real. There was just no place for a rainbow in this film."
MORE:
The Bold Testament of Jennifer Connelly 
Lupita Nyong'o: A Defining Moment
The Rising Action of Evangeline Lilly