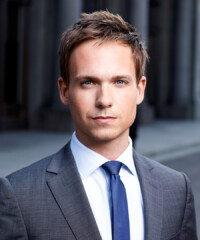 The fourth season of USA's hit series Suits comes back to television on January 28, but fans of the show get to peek behind the scenes a little earlier. From January 23 through 25, Suits star Patrick J. Adams will exhibit his on-set photos at a pop-up gallery in New York City, sharing the personal snapshots he has taken with his collection of more than 30 cameras.
"I guess it's always been about documenting for me," Adams says. "Ever since I was a kid, I've been obsessive of documentation. When major things happen in my life, it ramps up a little bit more. So from the very moment that Suits happened, I knew that it was going to be one of the bigger professional things for me, and I just started documenting." 
It's a habit that's given the actor a chance to notice more of what's happening around him. 
"There's a meditative quality to it," he says of photography. "Sometimes it's less about the product of the photo itself as it is about the act of blessing of the moment. This is something I want to remember, and I think people are going to want to see the show and see the actors. I want to give people an idea of what it really takes to get something like this done." 
And while Adams is definitely an old hand at photographing his co-stars, and his Instagram account boasts over half a million followers, there are still pictures the actor says he's itching to take.
"I would love to go to Japan or Thailand to photograph people at festivals," he says. "I'm really obsessed with that large festival culture and people who populate that. And because I do a fair amount of traveling, I end up in what would be considered tourist traps—places that you have to go if you're there but will be crazy overpopulated—and at this point I might have 120 images of tourists in places. When I want to take a picture of something that everybody's taking a picture of, I remove myself and take pictures of the tourists at that monument. That's a strange obsession of mine."
When it came to picking out images that would work best for his exhibition, Adams was a bit less certain.
"I was a little pensive about making the choices, I knew I had some favorites, but the gallery can hold about 30 pieces and that was more than I imagined putting into the space," he says. Luckily, Adams was able to cull his collection and come up with what he thinks is a strong representation of his work.
"By the time we picked the final 30, they were the ones that I hoped they would be," he says. "It went in the right direction." 
Here, Adams shares some of his favorite photos from the exhibition.