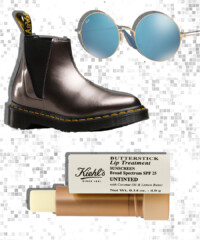 When I think of summer, I think of camping, crowd surfing and concerts—the essential things that make up that one-of-a-kind beast, the music festival. To me, there's nothing like packing up all of my most colorful clothing, jumping into an RV with my friends and spending four days immersed in this sacred world. 
The top-billed artists always seem to get the credit for making a music festival popular. For me personally, seeing Paul McCartney's name plastered across a lineup poster is definitely a draw, but my eyes always land at the bottom of the poster, skimming through the names that you can barely make out because the type is so small.
That's how I stumbled upon this artist called Halsey a few years back, when I saw her perform a 4pm set to a crowd of about 75 people. 
At Firefly Festival, when lightning flashed over the crowd as Kings of Leon performed, I was forced to evacuate the grounds and sleep in a car as a safety precaution. At Lollapalooza in Chicago, when The Struts took the stage in the blazing mid-afternoon heat, Luke Spiller could not have been more of a rock star as he roared through the sun-soaked crowd dressed in a shimmering poncho.
The rush of being tossed into a pulsating crowd during a Blink-182 concert and surfing up to the stage and into the arms of a burly security guard could only be topped by doing it twice after that. Sometimes once isn't enough. 
From the three-day festivals in the heart of New York City to four-day adventures on the Gulf Shores of Alabama, these moments always create a shared bond between concert-goers, from first-timers who forgot their sunscreen (the most basic of festival essentials) to those 60-year-old men who have been attending Lollapalooza since its inception. 
Each time, after a weekend of sunburns, mud-stained shoes and new friends, I pack up the car on Monday morning and head back to reality, telling myself that this is my last summer of festivals. I think, you can't escape adulthood for days at a time any longer. But inevitably, when those lineups are released and early bird deals offered, I know I'll be in attendance.
For a look at my festival must-have items, scroll through the gallery above.
Main image: instagram