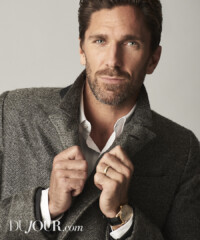 The Olympic gold medalist and goaltender for the New York Rangers walks into a SoHo studio donning Salvatore Ferragamo sunglasses; a leather jacket fit for a rebellious rock star; and smooth, slicked-back hair to top it all off. This is Henrik Lundqvist's casual "after practice" look that he nonchalantly pulls off.
The Swedish ice hockey goalie has lived in New York City since his rookie season for the Rangers in 2005, when he was just 23 years old. Now, at 36, Lundqvist says his style has luckily evolved over the years to reflect his creative spirit and a more refined taste. "I used to follow trends more, I think. Then I figured out what my style is and what I'm comfortable in," Lundqvist says, adding that he may have experimented with some more outrageous outfits in the past. On his personal style today, he says, "Obviously I wear suits a lot for game days, but I also used to play guitar in a band, so I think there's a little more rock and more of an edge in my style, too."
Though suits are required for game days, Lundqvist tries to incorporate a sophisticated edge, allowing for his creative personality to show through. In addition, he says he almost always chooses to wear a sleek, thin watch to complement his suit and easily slide under his shirt. On off days, he sometimes chooses to wear a bigger watch, saying, "That's the fun part about watches; you can mix it up with different styles depending on the day."
An ambassador for TAG Heuer since 2016, Lundqvist recently unveiled the Henrik Lundqvist limited edition Aquaracer, a timepiece that will have just 205 pieces available, representing his official draft pick number when selected for the New York Rangers. "I've had a fond relationship with TAG for a few years. With this limited edition watch, we included some personal details, like my logo; the crown with my number, 30; and the Rangers' colors," Lundqvist says of the design. He adds that he wanted to create a watch he would enjoy wearing, as well as something that would stand out to the fans.
With 13 years under his belt as a New York Ranger, Lundqvist has built up quite a fan base, earning the nickname "King Henrik" after just his second season in the NHL. But, even as The King, he says he is always trying to improve from the year before in order to benefit the team. "As a goalie, it's like playing an individual sport on a team sport. You need to focus on your own performance as well as how the team can achieve their goals."
Prior to each 82-game NHL season kicking off, the veteran goalie says he always spends a few months back home in Sweden with his wife and two daughters. Though it is important to Lundqvist that his daughters experience the small village he grew up in, he says coming back to New York City and his hometown arena, Madison Square Garden, is always exciting. "Playing at the Garden is not something I take for granted. It's so special because of the history and location. It's a big stage for any player, whether you play for the Rangers or a visiting team."
Ahead of the 2018 season, Lundqvist reflects on his expansive career and says that one of the biggest challenges he's had is being able to fully appreciate moments throughout the season without getting too caught up in the pressure. "I'm very intense when it comes to hockey. How I perform affects me and my relationships a lot," he admits. He adds that being able to see the big picture is crucial, but having intensity and passion are what will inspire you to improve. "I think finding a balance is important. Easy to say but hard to do," he decides.
Upon reflecting, Lundqvist explains that his roots might be founded in creative fields like music and drawing, but sports have offered him some incredible values, such as teamwork, how to deal with success and failure, and a good work ethic. The common ground among all of his interests is his passion, which is something he strives to instill in his two young daughters. "For my daughters, that's the one thing I really want them to have. I just want them to have passion for something, anything. I want them to have the drive to do something," he says.
From Sweden to New York City, in a suit or a leather jacket, the Rangers' goaltender has proved himself to be a passionate (and creative) king both on and off the ice.