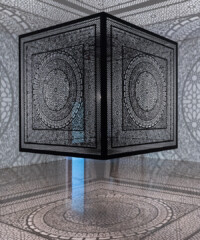 Since her breakout solo show at the Brooklyn Museum in 2012, New York-based artist Mickalene Thomas has been a highly documented player in the vanguard of contemporary black art (often alongside Derrick Adams, with whom she throws a joint birthday party each year). Thomas is most famous for her many-layered collage paintings that re-center black muses, such as A Little Taste Outside of Love (2007), her take on the odalisque. While radical in their re-centering, they also incorporate visual and material bits of the past, from archival imagery to multicolored, nostalgia-inducing rhinestones. Well-loved as her oeuvre may be, recently popping up everywhere from Aspen Art Museum to New Museum's buzz-generating "Trigger" exhibit, Thomas's next stop will cast the artist in a new light.
Starting April 7, Thomas and 14 other contemporary masters will be on view at "You Are Here: Light, Color, and Sound Experiences" at North Carolina Museum of Art. The show is a sprawling mix of media and technology, comprised of 20 installations hooked up to a variety of multisensory elements, from a chandelier of cascading LEDs to a 40-speaker soundscape.
In the midst of the show's sensorial array—which includes Olafur Eliasson's Sunset Kaleidoscope (2005) and Yayoi Kusama's Light of Life, a miniaturized version of her sensational "Infinity Mirrors" exhibit—Thomas's work acts as a kind of inverse of the light show experience. Where the more abstract installations refract and dazzle, Thomas's pieces together scraps of recorded data, rebroadcasted as a cohesive picture of black womanhood.
As though an antennae receiving Thomas's pop-cultural memory, the video Do I Look Like a Lady super-cuts monologues by black female performers like Moms Mabley and Whoopi Goldberg, shown in a grainy, analog quality, almost recalling the gauzy pointillism of Thomas's rhinestones. Beside the video are two portraits of Thomas's childhood idols, Diahann Carroll and Naomi Sims, silkscreened onto large mirrored shards and puzzle-pieced together.
But Thomas's aren't the only pop-cultural collages in residence. Theo Eshetu's Anima Mundi combines images from movies and TV, while Icelandic video performance artist Ragnar Kjartansson's installation is inspired by American bluegrass music.
The show marks the first time that the museum has used its entire exhibition space, plus the lobby and façade, for one exhibition. The scale, coupled with the various technical aspects, posed a unique challenge for the museum. "With 20 different installations by 15 different artists, it has been a complex, two-month installation process," says chief curator Linda Johnson Dougherty.
Despite the heavy lifting, the exhibit's dizzying mix of light, color and nostalgia just might make you feel a little bit weightless. "You Are Here: Light, Color, and Sound Experiences" will be on view at the North Carolina Museum of Art from April 7 to July 22.