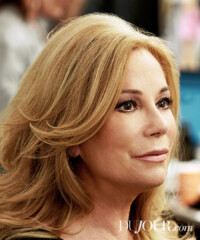 Kathie Lee Gifford makes small talk for a living, but she doesn't do bullshit. Only minutes into a photo shoot, Gifford has vetoed a track of expletive-laden hip-hop, and even after the Pandora station is changed to accommodate her well-documented taste for show tunes, the 62-year-old television fixture nixes a particularly maudlin Sondheim number. Instead, she offers a thought regarding songs that might perfectly suit the occasion. "I've put out 10 albums," she says in a way that makes clear this isn't just a suggestion. 
Gifford's consistently a straight shooter. Whether she's weighing in on the soundtrack for a photo session, sharing her views with millions of daily viewers or explaining her rules for taking on a new project—"My joy is non-negotiable," she says—Gifford is nothing if not forthright, which is perhaps the very reason she's made it through nearly three decades in the notoriously shark-infested waters of morning TV. 
"I'm as real in my life as I am on our show," Gifford says early one spring morning, sitting in the makeup chair at Today. "If you're waking up, trying to act for the cameras, you lose the authenticity of a real life."
Authenticity, however, isn't always pleasant. Last August, Gifford's husband Frank, the football and broadcasting legend with whom she has two children, died at their Connecticut home. Instead of grieving behind closed doors, Gifford returned to Today just a week later and lived through the experience in public. "There's no question that Frank was the love of my life," she says. "In a world where people seem to get divorced because they have a hangnail, we were committed to our marriage and to one another. NBC was so gracious to me, and said to take all the time that I needed, but I felt that it was important to come back. I felt like I needed to."
Audiences agreed. Millions of viewers tuned in to Gifford's return to Today, a turnout she says is staggering. "I wanted everyone to know the personal Frank. I thought that was important to share," she says. "Now all of these people have said it meant something to them, and I'm grateful for that. I don't expect anything when I share my life every morning; I just hope it means something to people. What's the point if it doesn't?"
Gifford has balanced an on-camera existence with her own real life since becoming a household name in the 1980s, thanks to her perch on Live! with Regis and Kathie Lee. Since then, she's had a sprawling career, including stints as a singer, author, Broadway playwright and, of course, the face of a cruise line company. But while plenty of other TV personalities might have faded into the background of our collective unconscious, these days Gifford—whose comeback vehicle has been the incredibly popular fourth hour of Today—is perhaps more beloved than ever. She's just as surprised by that as anyone else. 
"I was actively pursuing not coming back to TV," says Gifford, now seven years into her high-profile gig. "I thought that I had done the best 15 years of television I could possibly do with Regis—we changed the face of daytime television and we became a phenomenon at the time—and when I left in 2000, it was to follow interests I hadn't had the time for."
Eight years later, Gifford still wasn't looking for a job. But one day in 2008, she found her lunch at the Manhattan media watering hole Michael's interrupted by Today host Natalie Morales, producer Amy Rosenblum and Dateline correspondent Hoda Kotb. The trio implored her to try taking a guest role on Today. Gifford agreed to return for a one-day stint, but network brass, impressed by what comes across on-screen as relatable (albeit wacky) honesty, asked her back the following day.
"I said, 'I can't, but call me another time,' and a couple of months went by and NBC started calling me for meetings," Gifford recalls. "I was flattered and deeply grateful, but I was 55 at the time and I just thought, 'Wow, how times have changed. Somebody was interested in a post-menopausal woman—and a has-been at that.'"
The network kept up its charm offensive, eventually dispatching Gifford's Greenwich, Connecticut, neighbor and then-Today executive producer Jim Bell to reel her in. "We were all struck by how funny she was, how fast she was and what a natural she was on camera," Bell says now. "It seemed a shame that she wasn't sharing that gift on a more regular basis with the audience, so I reached out. She was reluctant, and I got that. She was enjoying a wonderful life with Frank and their two amazing kids, she had lots of great friends and lots of important causes, but I told her that America needed her. It was her duty to come back to television."
Assured that she'd be able to cover the kinds of stories she wanted, Gifford was paired with Kotb—a foreign correspondent new to a morning show's mix of soft news—and the pair was given the opportunity to make its mark on the formerly meandering fourth hour of Today. Since then, the duo has developed a signature style—a mix of high-energy coffee talk, heartfelt human interest stories, friendly celebrity interviews and, yes, lots of early morning wine—that's earned them not only big numbers (at press time, Today was pulling in more than 4 million viewers daily) but also a special brand of benevolent notoriety that comes along with being razzed on Saturday Night Live. To call the pair a power couple would not be overstating it. 
"The day we connected was the day my life changed," says Kotb. "Without her, I would be on Dateline covering a murder somewhere and enjoying my life, but I would've had no idea what might have been. She and I connect like two puzzle pieces, and who in her lifetime gets to sit next to Kathie Lee Gifford? I do. And it's a real privilege."
No less an expert on sitting next to Gifford than Regis Philbin is inclined to agree. "I've worked with many people, but there was no one like Kathie Lee Gifford," he says. "I think it's her personality and the fact that she's not afraid to speak her mind. She's very honest with everybody about where she stands with everything—that's just the way it is, whether you like it or not."
Philbin says this was never more apparent than during a trip the pair took to Las Vegas to launch a musical revue. "We got out of the plane and were walking towards the escalator when we saw this tremendous sign saying we were appearing at this particular club," he recalls. "There were two women in front of us, and one said to the other, 'I wouldn't pay a dime to see them.' Kathie Lee had the guts to say, 'Hey, turn around! It's us—and I won't charge you a penny!' That's just the way she is." 
Of course, there's more to Gifford than just a sharp tongue. She's quick to mention her strong faith and to quote the Bible; stories that involve gardening as a metaphor for life are not uncommon. And she's never far from a proud yarn about her family—not hard to come by, considering daughter Cassidy is an up-and-coming actress and son Cody is getting his master's in creative writing from Oxford University. "I think she's connected so much with the audience because she wears her heart on her sleeve," says Today host Matt Lauer. "She's one of the few people who's willing to be raw and vulnerable, and we see that all the time."
Despite her personal and professional accomplishments, Gifford says she's not settling into anything like a final act just yet. She's developing new businesses (including a recently launched line of wines) and stretching her artistic muscles (she's currently working on a film based on one of her early musicals) and, of course, spending every weekday morning sharing her opinionated, unfiltered self with an audience that can't get enough of it. And she wouldn't have it any other way. 
"When life stops being challenging, you might as well say sayonara, sister," she says. "Because the joy of living is finding out something brand new every day." 
Makeup: Mary Kahler. Hair: Laura Castorino for Rossano Ferretti Hairspa.