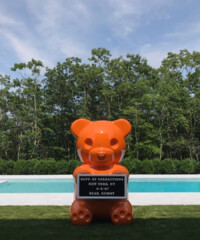 If rock-n-roll-themed clothing label John Varvatos is the retail equivalent of slapping on some black eyeliner, shopping Joyce Varvatos – wife of John and an art advisor and seller – is going full glam. While John's brand pays tribute to music's freewheeling past (his flagship store is housed in the old CBGB club on the Bowery) Joyce examines similar themes through her nostalgia-tinted curation of the exhibit "Chaos Theory," currently on view at Sag Harbor's Octave Studio and available on Artsy.
Open since last week, the exhibit is the first gallery pop-up at Octave Studio. The venue – a new mixed-use design studio run by co-curator Alexandra Hayden – may be hours from the Bowery, but the exhibit reflects a countercultural contrast to its quaint Sag Harbor environs by highlighting renegade artists like Sante D'Orazio and Eric Fischl.
Varvatos and Hayden – friends of nearly three decades – originated the concept with D'Orazio, a close mutual pal and photographer known for 90s supermodel-era pinups. In addition to a fantasy-scape of D'Orazio's subjects – from Linda Evangelista for Italian Vogue to Pamela Anderson for Playboy – the exhibit also includes more subtle hints at nostalgia, like a series of portraits of Trump's cabinet by Eric Fischl, who has recently documented the decline of the American empire. Perhaps literally embodying the exhibit's loss-of-innocence theme is "Vandal Gummy" by WhIsBe, a giant gummy bear holding a mug-shot placard – available in four colors and starting at $30,000.
"Chaos Theory" is on view at Octave Studio until October 9th.