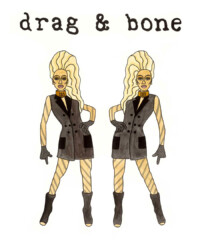 Pharrell Williams's multi-media creative collective, i am OTHER, has connected with Twyla, a new platform allowing art buyers to discover exclusive pieces from some of today's most talked-about artists.
In a limited-edition collaboration, i am OTHER will introduce three new artists to the Twyla marketplace, including fashion-favorite Angelica Hicks. You may recognize her playful illustrations from her daily drawings on Instagram or from her collaborations with powerhouses such as Gucci, Missoni and Net-a-Porter. At only 24 years old, she is also the artist behind Tongue in Chic: The Fabulous Fashion World of Angelica Hicks, which includes 1500 of her whimsical drawings and a foreword by fashion icon Hamish Bowles.
"I'm absorbing things from advertising campaigns to newspaper headlines. I'm subconsciously absorbing these pop cultural references that I literally draw from," Hicks says of her satirization of the fashion and pop culture worlds.
Click through to see her illustrations for Twyla x i am OTHER and get your hands on your very own here.