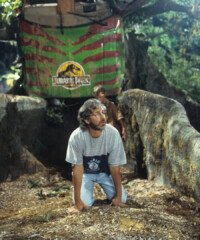 When attempting to sum up the career of Steven Spielberg – icon, Hollywood daddy, god-like creative – hyperbole is only fitting. But when veteran documentarian Susan Lacy set out to encapsulate Spielberg's unparalleled legacy in her sweeping two-and-half hour documentary Spielberg, premiering at the New York Film Festival today and on HBO this Saturday, she abstained from the word most often used to underline Spielberg's influence.
"I started every interview by saying, 'I don't want to hear he's genius,'" she tells us. "I never use that word in the film. I don't want to hear he's fantastic, I don't want to hear he's a nice guy. I want you to illustrate why he's a genius."
Lacy had no qualms about enforcing the rules when it came to her impressive roster of interview subjects, which reads like the first several rows of the Academy Awards (Daniel Day Lewis, Leonardo DiCaprio, Harrison Ford, Tom Hanks, Drew Barrymore, just to name of few of the 87 total). As the creator of the PBS series "American Masters," she racked up over two-dozen Emmys and 11 Peabodys profiling everyone from Lucille Ball to Albert Einstein before migrating to HBO in 2012.
So when it came to turning the camera on one of Hollywood's most prolific filmmakers, and pointing it outside of his typical narrative, Lacy didn't shy away from the less crowd-pleasing parts of Spielberg's life, including childhood loneliness, bullying, and Spielberg's 15-year estrangement from his father. And that, says Lacy, is just scratching the surface. "Then there's the less obvious stuff," she says. "Which is, as he grew into an adult, anti-Semitism and not wanting to be Jewish and then confronting all that in the making of Schindler's List."
While the escapist fantasies of E.T. and Indiana Jones are what skyrocketed Spielberg's career, Lacy says his real life has always been layered in. "I do think there's a part of him in every film that he's made," she says. "The separation of families. The absentee father. It runs all through his work. That's the story I wanted to tell. I think I did."