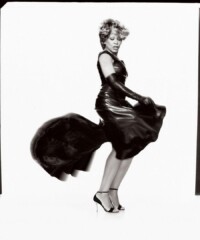 Gisele Bündchen. Kate Winslet. Christy Turlington. Looking at Gilles Bensimon's photographs, there is a clear theme present amongst his subjects: beauty.
But the French photographer proclaims: "I have no favorite." At the opening of his new exhibition, Elles by Gilles Bensimon, on display at Sofitel New York, Bensimon discussed his many models with DuJour, "Everyone asks me that! I like them all." He praised Beyoncé, who he shot for Marie Claire in 2009, "Ah! She's always nice. But most of them are nice, if you are unpleasant – and there are some – I forget about them, honestly."
He does, however have a clear preference when it comes to fashion designers. "I love Marc Jacobs," he said, "And the Missoni famiy." Of the newly pregnant Margherita Missoni, Bensimon smiled, "I took her first picture! When she was not even born!" (Our unasked followup: Will he do the same for her offspring?)
He continued his list: "My favorite is Alaïa, I love him. He works until five in the morning and he does everything when you go there — he cooks for you and dinner with him is a pleasure. His life is an example for me."
"I'm not going to tell you his age, but he's…" Bensimon signed, when discussing the 70-something-year-old designer, before moving on to those who are no longer with us. "I miss Alexander McQueen. I miss him very much. The girl does a good job – but for me Alexander is not there."
"I miss Yves Saint Laurent."
While he prefaced the following statement with "I'm not a critic," Bensimon's opinion of Hedi Slimane's fall 2013 collection for the French fashion house speaks for itself: "For me, Saint Laurent is dead. It's his brand, yes, but Saint Laurent – for me – is Yves Saint Laurent."
Elles by Gilles Bensimon, which features photographs of Audrey Hepburn, Catherine Deneuve and Zooey Deschanel, will be on display at Sofitel New York.