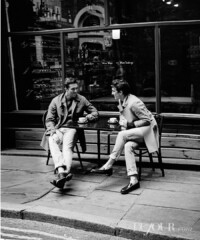 Before he took up acting, Ben Lloyd-Hughes wanted to be a barrister. "I like standing up for the little man," the 25-year-old British actor says, "and trying to fight for the truth." It was only after he discovered practicing law wasn't what he expected—"maybe what I was attracted to was the showmanship of it"—that he turned to drama. It's lucky for Lloyd-hughes that his world isn't quite like Divergent's.
The dystopian tale, based on Veronica Roth's young-adult novels, takes place in a future in which teenagers are tested to see where they belong in society and assigned lifelong roles. Of course, not everyone finds a fit. Shailene Woodley plays the story's protagonist, Beatrice "Tris" prior, who defies categorization and joins a dangerous underground resistance. Lloyd-Hughes, who plays Tris's pal Will, says the totalitarian society makes the story compelling. "What struck me most was that you had to choose then and there at age 16 what you were going to do for the rest of your life," he says.
Christian Madsen, his American co-star, agrees, saying, "We're into the cool, futuristic stuff, but underneath it all, it's about soul-searching."
Not that it was all quiet contemplation. "We had so much fun on and off set: We went to concerts, we went to a Bulls game," Madsen says. "But it was when we shot a scene in Chicago where we were jumping off a moving train that I remember asking, 'Wait, is this going to be a big movie?' "
Filming that sequence, which called for sprinting toward a train with 200 extras, made an impact on Lloyd-Hughes, too. "I certainly felt like
I was in a proper big American film," he says, with no discernible trace of missing out on life as a lawyer. "There's something about running through the streets with a camera following you that makes you feel like a real action hero."
Watch the trailer for Divergent below, and click on the gallery above to see the stars model the season's best outerwear.
MORE:
The Top Fall 2014 Menswear Trends
How to Layer Up This Season
12 Upstate-Ready Menswear Pieces