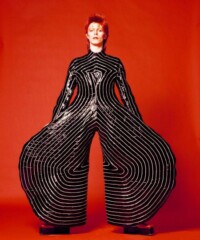 While pop princess like Madonna are most often referenced as chameleons for their ever-changing looks, there's no one who compares to David Bowie. From David Jones to a glam-rock Ziggy Stardust in the '60s to a modern-day, 66-year-old father and husband in New York City, the press shy British musician has created more original personas than Lady Gaga would even know what to do with.
And so, a selection from Bowie's personal archive – which includes over 75,000 pieces – is now on display at the Victoria & Albert museum in an exhibition, David Bowie Is. Including clothes from each of his roles amongst an elaborate, encompassing digital display that's all about Bowie, the open-ended title makes sense. After all, Bowie recently released a new album, The Next Day; there are currently rumors that he will go on tour, something he hasn't done since 2006; and his very involvement in the exhibition demonstrates a new-found openness to the artist. So what's next? Only Bowie himself can know for sure. For the moment, we'll have to be satisfied with a look the past.
David Bowie Is will be on display at the V&A Museum in London from through August 11, 2013. Cromwell Road, London SW7 2RL, +44 (0)20 7942 2000. Take a look in the DuJour gallery for a preview of the exhibit and to see photographs from the accompanying book, which is available on April 16, 2013.