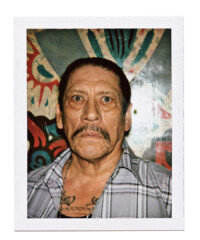 When I was young, there were no cell phones or tablets. The objects that I gravitated towards were my father's Nikon F, his stainless steel Timex, his ZERO Halliburton silver briefcase, his Polaroid SX-70. I never considered "being" a photographer. Still, I never lost the desire for that Nikon, and when I was 12, I got one for my birthday. Thus began one of my only longtime hobbies. As I got older I really took a liking to Polaroid cameras. I loved the instant gratification of seeing if you "got the picture" within minutes of taking it and that the photo was a "one of one." 
In college, my love of all things vintage and antique, which I get from my mom, took me to many garage sales and thrift stores and I began collecting vintage Polaroid cameras. Fast-forward through a lot of Polaroid 667 and 669 film to 2004, when I went to an opening for an Andy Warhol exhibition called "Warhol: Red Books." It was a display of Andy's Polaroid portraits, in conjunction with the release of the box set of books of the same name, which replicated the way he had kept his portraits in red Halston photo albums. At the end was Andy's Polaroid Big Shot camera, which he had used to shoot all the portraits in the show.
The Big Shot was made in 1971 by Polaroid, and despite being made of lightweight molded plastic, it was bulky and of limited use, as it is a fixed-focus portrait camera. With disappointing sales, it was discontinued after one year. So I went home and bought a used one off the Internet and began shooting portraits of friends who would come to my house. At the time, I was working as tour manager for Kelis, N.E.R.D, and Pharrell. I would always travel with a lot of cameras, but the Big Shot stayed at home, being too bulky to travel with. In 2006 I stopped touring and began working for [Pharrell's line] Billionaire Boys Club. I kept the Big Shot at the showroom, taking pictures of people who visited. I shot Snoop, Chris Brown, André Leon Talley, Tyler the Creator, DMC, and Jasmine Sanders. Snoop was the first person to ask me, "Why don't you have a book deal? You should definitely make a book"… so I asked him to be my book agent (he declined).
I am constantly crossing paths with other amazing people to photograph, and this project will continue long after this book has been published: As it was in the beginning, Phillip taking pictures for Phillip.
Big Shots! will be published by Rizzoli on March 28. 
All images © Philip Leeds, Rizzoli International Publishers.