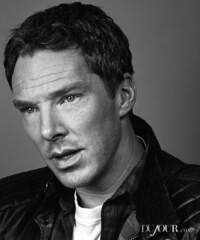 To play English mathematician Alan Turing in The Imitation Game, it was important for Benedict Cumberbatch to walk the line between fact and fiction. 
"It's tricky to get the balance right between storytelling and authenticity," Cumberbatch says. "Being true to the character and being honest to him, and at the same time trying to tell a cinematic version of the story, that's always a challenge."
Of course, Turing's story is plenty fantastic even without being embellished. Known today as a godfather of the modern computer, Turing lead the team that cracked the Nazi's infamous Enigma code, thereby helping the Allies to win World War II. But in the wake of this achievement, Turing was prosecuted for homosexuality; he was later chemically castrated. He died in 1954 from cyanide poisoning, in what many suspect was a suicide. 
Cumberbatch says it was a privilege to play someone whose contribution to history has been so overlooked. "It's an extraordinary thing to link this mild-mannered, slightly different scientist to the spying and secrets involved with killing the Enigma code," he says. "It's a bit like The Avengers, except these are real superheroes and they did it all in a little town in the southeast of England—and they had to keep it quiet for 35 years. I think we can all take a lot from that."
Brooklands Blouson jacket, $795, BELSTAFF, belstaff.com. Oxford shirt, $75, J.CREW, jcrew.com. Commute Crew T-shirt, $55, ADRIANO GOLDSCHMIED, agjeans.com. Cumberbatch photographed on location in the Hamilton Penthouse, Corinthia Hotel London.
Go behind the scenes at DuJour's photo shoot for Hollywood's most incredible actors of 2014