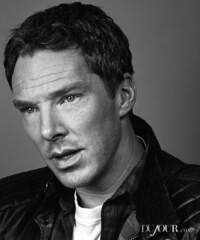 Timothy Spall's portrayal of the controversial 19th-century painter J.M.W. Turner in Mr. Turner was a long time in the making. 
In 2006, he explains, "I was walking in London near where Mike Leigh has an office, and I bumped into him and he said to me, 'I'm making a film about Turner, do you want to play him?' And I said, 'Yes, I'd love to.'" Four years passed and, with Turner on his mind, Spall phoned Leigh to ask if the offer still stood. The director said it did, then added, "Will you also do me the favor of learning how to paint?" Spall agreed. 
Of course, it took more than painting for the actor to get inside the head of the landscape artist, who famously spent four hours strapped to the mast of a ship in order to observe, and then document, a nocturnal snowstorm. "It was our work to be detectives and see what he was made of," Spall says. "What was his emotional interior like, and how did that present itself as a human being?"
The answer, it seems, came from the late artist himself. "The one thing that Turner did palpably is work," Spall says. "He never discussed it, he just did it. And if you want to do anything that's really, really good, you can't just sit there and press a button, you've got to work your bollocks off. That's what this film is about."  
Overcoat, $12,768, KITON, kiton.it. Sail Rigger shirt, $40, LANDS' END, landsend.com. Pants, $1,895 for full suit, LANVIN, barneys.com. Spall photographed on location in the Hamilton Penthouse, Corinthia Hotel London.
Go behind the scenes at DuJour's photo shoot for Hollywood's most incredible actors of 2014